Mrs Delgado
Mike Bartlett
The Old Fire Station, Oxford and Fictional Company
The Old Fire Station, Oxford
–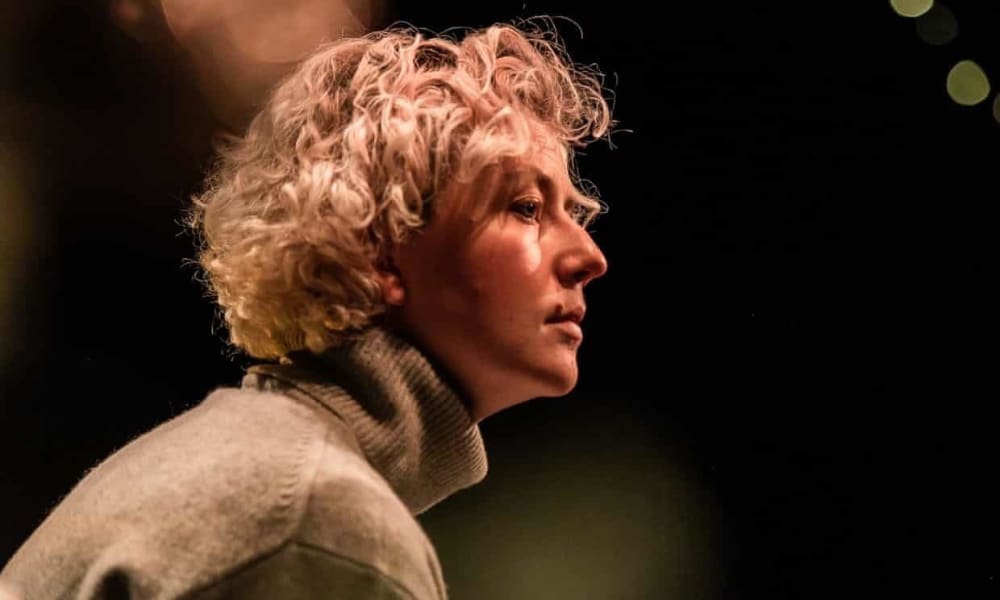 Mrs Delgado is an hour-long morality tale that utilises polar opposites to examine some of the tricky social issues raised by the coronavirus pandemic over the last couple of years. It proves to be a dual triumph for Ellen Robertson, who stepped into the role of Helen at the very last minute, and her director, Clare Lizzimore.
The Old Fire Station in Oxford is once again to be congratulated in staging the world première of a new monologue from the ever-popular Mike Bartlett. The theatre also had the good sense to film a pair of live performances, one of which has been recorded for posterity and might help them out should the virus cause them as many problems as it has to other theatres as December 2021 has progressed.
Viewers will inevitably take sides as prim, sanctimonious Helen wages war on her libertarian, denier neighbour, the eponymous Mrs Delgado, following a long period of mutual voyeurism. Where our narrator is as dull as dishwater, her antagonist is a lively bohemian, even at 87.
The catalyst for drama occurs when Helen realises that the old lady is constantly putting her life at risk by interacting with all and sundry while the lockdown rules post-Christmas 2020 forbade any socialising. Having tried and failed to make her point directly, diligently dictatorial Helen takes a back door route, dissuading visitors from—well, visiting.
Misanthropic Helen firmly believes that in doing so, she is not only potentially saving her neighbour's life but those of many with whom she interacts.
The opposite side of the debate is eloquently expressed, when Mrs Delgado brings a peace offering and both she and a friendly Amazon delivery driver make the point that loneliness could be just as damaging as COVID-19.
Without necessarily imposing his authorial voice, viewers may conclude that by making Mrs Delgado so much more attractive than her helpful antagonist, Mike Bartlett could be supporting the strongly libertarian viewpoint that is becoming apparent from a particularly vocal group of Conservative MPs who are happy to defy their Prime Minister at present.
Balance is restored to a degree towards the end of the hour following a street party at which the younger woman uncharacteristically launches a tirade against globalisation and capitalism. This is followed by a moralistic ending that is more in the Christmas spirit than an obvious conclusion to what has previously transpired.
Even so, Mrs Delgado is a thoughtful contribution to a debate that one fears might continue for years to come following the advent of the Omicron variant and the uncertainty that it has brought.
While the online production only ran for two performances, the play continues on stage until 21 December.
Reviewer: Philip Fisher