Mrs Klein
Nicolas Wright
Almeida Theatre
(2009)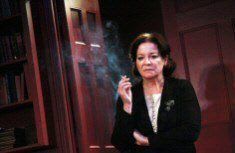 The Almeida is fast turning itself into a haven for Anglo-Jewish psychoanalysts with Germanic roots. Following Henry Goodman's virtuoso performance in Duet for One by Peter Shaffer, Nicholas Wright's play from later in the 1980s features a triple bill of that good doctor's female peers.
The ever-reliable Claire Higgins is Melanie Klein, a real-life Viennese analyst who, like Sigmund Freud, settled in London. When we meet her in 1934, she seems an impossibly stable divorcée in her fifties facing up to the loss of her beloved son Hans in a climbing accident. The tool that she uses is faith in her own skills and their ability to lance pain.
In her red Hampstead sitting room, the mother who does not grieve is joined first by a timid escapee from Nazi persecution, Nicola Walker's Paula. This cowed analyst has left her own nine-year-old son behind in Germany and been resettled in shabby Bethnal Green. Paula is a complex mix of would-be patient, secretary and slave with an incipient dash of the analyst that she has trained to be thrown in.
This uncomfortable pairing is hardly relaxed by the arrival of the third analyst, Mrs Klein's daughter Melitta, played by Zoë Waites. The mother-daughter relationship is rich in promise for a playwright who wishes to explore the implications of psychoanalysis in a situation of great stress. Wright certainly plumbs the hidden depths in his efforts to understand the three women and their often mysterious profession
With the assistance of director Thea Sharrock and her excellent team of actresses, the writer plays every variation imaginable for 2½ hours until each woman has bared her emotional soul and is left completely raw.
This can make far from comfortable viewing, even while one is admiring the techniques of the performers, director and a writer who clearly enjoys using minor symbolic gestures to press home serious points.
It is perhaps inevitable that Mrs Klein's veneer of acceptance is gradually chipped and then ripped away by the younger women and in particular, her confrontations with Melitta often seem cruel on both sides. That can make Paula into either a peacemaker or, occasionally, a catalyst, both of which roles she begins to enjoy as her confidence grows.
By the end of the evening, although Mrs Klein painfully achieves her catharsis, it might be at too great a cost to the audience, which is plunged into almost terminal gloom for much of the play, as the protagonists try to find themselves and rationalise the loss of a young life. At least they can enjoy the virtuoso Mrs Higgins and her two talented colleagues if the soul-searching gets too much.
Playing until 5 December
Reviewer: Philip Fisher