Mrs Reynolds and the Ruffian
Gary Owen
Watford Palace Theatre
(2010)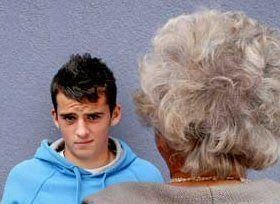 Gary Owen has written an old fashioned parable set in modern times. The title says it all, at least for the first half of the two hours.
The play opens with stern old Mrs R played by The Bill star Trudie Goodwin, in deadly combat with inarticulate Jay, refereed by Annie Hemingway as a massively irritating and somewhat clichéd social worker.
In keeping with the times, having scared the old lady and roughed up her garden, the young tough must do his "community payback" in front of a newspaper mountain with integral graffiti wall, courtesy of designer Ruari Murchison.
Morgan Watkins' Jay treats this as a laugh, threatening his victim and causing more disruption rather than helping her.
Instead of whistle-blowing, which would have been the more obvious reaction, Mrs Reynolds invents her own kind of rough justice, at least making the nonplussed Jay listen for once.
In a play that cares more about the points that it wishes to make than its plotting, the pair quickly become mutually dependent and an unorthodox friendship and even love begins to develop between them.
It is only after the interval that the play begins to delve a little more deeply into the characters, with the introduction of Suzie McGrath playing Mel.
She might seem sweet, but Mel has a past that shocks even macho Jay but also forces him to grow up. His maturing is completed in some genuinely touching final scenes, as Owen injects an overdose of pathos and a bittersweet ending.
Mrs Reynolds and the Ruffian will not set the world alight but it has some suitably comic moments and explores that major and increasingly prevalent issue of contemporary life, loneliness - a fate suffered by all three of the main characters.
Reviewer: Philip Fisher