Mrs Warren's Profession
George Bernard Shaw
Bath Theatre Royal production
Comedy Theatre
(2010)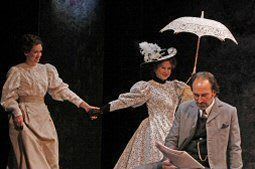 The main attraction of this import from the Theatre Royal in Bath was always likely to be the ever popular Felicity Kendal, who is fast ceasing to be merely an actress and becoming an institution.
She is well cast as the titular lady whose profession causes so much harm to all parties in Bernard Shaw's meditation on morality and hypocrisy.
On opening night, Miss Kendal's voice was increasingly rasping, definitely suggesting dubious health and possibly also an excess of emotion on her character's part.
Her former husband Michael Rudman has created a production that, like its set, seems determined to be worthy and traditional, although some of the ultra-modern body language belies this.
Shaw's story counterpoints prize-winning Cambridge graduate Vivie Warren (Lucy Briggs-Owen) and the mother whom she hardly knows.
The former is an earnest bluestocking with more intelligence than is good for her and a heart that may never thaw. Mrs Warren is a wealthy lady who has made the most of her talents to ensure that Vivie lacked for nothing, except parental warmth.
In a plot line that could have inspired Mamma Mia, they find themselves in Haslemere with a trio of posh men, any one of whom might be Vivie's father.
Mother's business partner, in a trade so shocking that the play was banned for decades, Sir George Crofts, played by David Yelland, might be a baronet but is totally unprincipled. By way of contrast, Mark Tandy's Praddy is a decent old buffer with less business sense but an innate sense of honour.
The third candidate is the least likely, the local vicar. Eric Carte plays a worried man so far past it now that he can barely recall his wild youth, currently being re-enacted by his tediously priggish son, Max Bennett's Frank.
It almost goes without saying that the two young people are paired, though what the young lady sees in her handsome wastrel suitor is uncertain, even in her mind, until old Sir George proposed a fate worse than death.
Through four scenes in around 2¼ hours, we witness the startling consequences of Vivie's determination to discover her mother's background and father's identity.
This eventually builds to a tearful open debate between mother representing humanity and joie de vivre and daughter, high-minded but dull morality.
Michael Rudman's production does little to play up much the writer's more subtle humour, concentrating on the situational aspects in an evening that will best be remembered by the large Felicity Kendal fan club for another stage appearance by their heroine.
Sheila Connor reviewed this production on tour at Chichester
Reviewer: Philip Fisher