MsTrial
Dep Kirkland
New World Stages, New York
–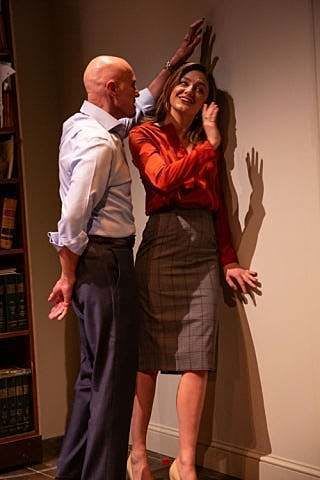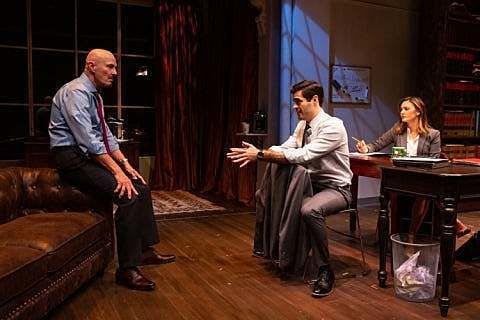 Stage and screen dramas centring on legal cases and criminal activity have long been popular. The best of them, such as Twelve Angry Men, are totally compelling, but so too is The Mousetrap, judging by the duration of its London run.
Dep Kirkland spent years practising as a lawyer, before giving it all up to try his luck in the entertainment industry. Not only has he written MsTrial but also rather greedily taken the leading role of ace attorney John Paris.
Much of the action takes place in his office, as the tub-thumping southerner inexplicably breaks the habit of a lifetime by taking on a couple of young colleagues for a sad case. He is representing families mourning loved ones who have been killed by a runaway train. The details are less clear than many might like, since Kirkland has a tendency to rush and gabble his lines.
The younger duo are an unlikely pairing. Christine Evangelista plays Karen Lukoff, to quote her boss, "a babe", who coincidentally happens to have wonderful legal brain. By way of contrast, Dan Burks, played by Alan Trinca, is the boss's gay nephew. What the tyros have in common is a degree of sensitivity that means they are constantly threatening to walk out on Paris, who goes out of his way to be obnoxious at every opportunity.
Somehow, in the fashion of this genre, they pull together to achieve wonderful victory that heralds the intermission curtain.
Up to this point, MsTrial is reminiscent of a pilot for the least demanding kind of made-for-TV drama. Perhaps more surprising is a set of behaviours and even legal analysis that rather than representing reality seem designed solely to score points with the audience.
However, the two-hour-long evening transforms after the break, focusing on an equally unlikely rape case, in which not one of victim, perpetrator or defending counsel (insert "alleged" as necessary) behaves particularly consistently or rationally. The drama then moves into what is not quite a courtroom, although a court reporter is diligently taking notes. In this tribunal, if that is the right word, nobody behaves very professionally.
The real value to be derived from this play comes in the later stages when the tearful victim is portrayed as a human being and a series of ethical questions about date rape are explored in reasonably satisfying depth. Even then, some might argue that the gender politics are at best dubious, which may in part reflect changes in societal attitudes since the play was first staged in 2002.
While this production has many of the qualities of a B-movie set in the legal world, when the more important issues are finally brought to the fore, it provides something for audience members to get their teeth into and debate on the way home.
Reviewer: Philip Fisher