Much Ado About Nothing
William Shakespeare
Royal Shakespeare Company
–

Listing details and ticket info...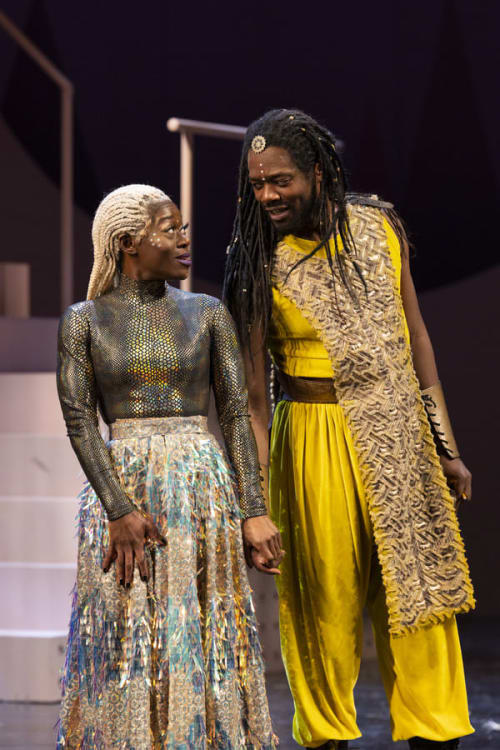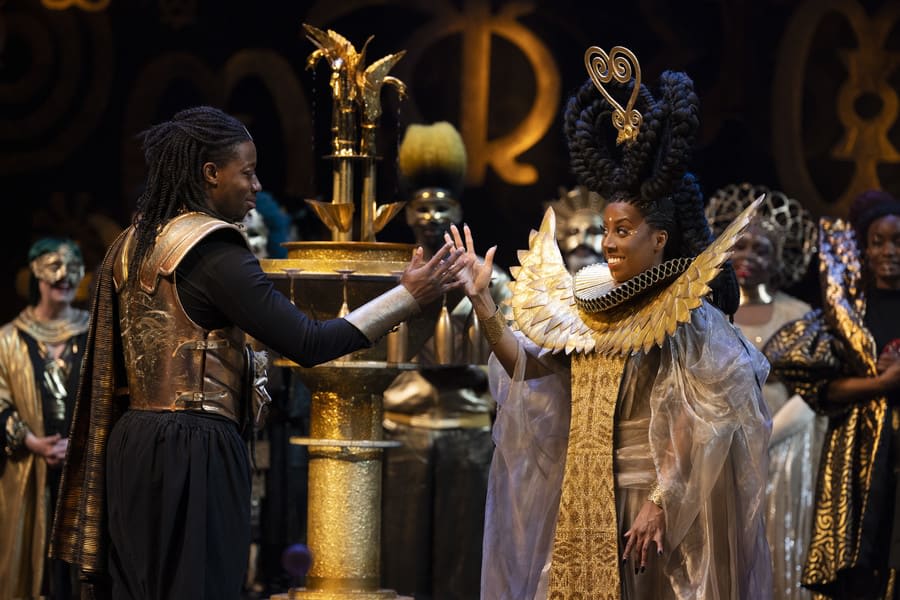 It is pleasing that, at a time when television has a tendency to get dumbed down, the much put-upon BBC is still willing to film and broadcast full-length Shakespearean productions.
Their collaborators on this project, the RSC team, have been attempting to reinvent themselves in recent times as both champions of diversity and, on occasion, highly conceptual, avant-garde productions clearly targeted at younger audiences.
This new 1¾-hour-long interpretation of Much Ado about Nothing directed by Roy Alexander Weise ticks both of these boxes, taking avant-garde to the point where some might suggest that it is bordering on eccentricity.
Located in an imagined contemporary Africa, the set and costume designing partnership of Jemima Robinson and Melissa Simon-Hartman have created striking, colourful imagery that sometimes looks like a YBA installation or possibly a fashionable TV sci-fi / fantasy creation rather than an Early Modern comedy from the greatest playwright that ever lived.
However, underpinning the modernity is Shakespeare's wit, often given rather too big a helping hand by Weise and his cast, looking for unsubtle stage business laughs that are their own, to supplement a prolixity from the original writer.
The acting fits into this framework, with nods and winks abounding, while far too many of the performers have a tendency to shout their lines in an over-abundance of enthusiasm, sometimes gabbling them to boot.
The centrepiece of this play is the love-hate relationship between the pick of the actors Akiya Henry, a natural comedienne in the role of Beatrice, and Luke Wilson, generally her straight man foil as Benedick rather than a great wit himself.
While they are jousting and gradually losing their resistance to Cupid's arrow, in parallel, Taya Ming's Hero and Claudio played by Mohammed Mansaray are carrying on their own romance, into which Shakespeare throws some pretty substantial impediments.
Around the edges, there is much comedy and some malice, Micah Balfour in the role of Don John proving particularly sinister and convincing while relishing the bad guy role.
The story is also jostled along thanks to the efforts of Kevin N Golding's oddly afro'd Leonato and a character transformed for this production. Toyin Ayedun-Alase takes the part of the Princess, who is a bold, if occasionally textually inappropriate, female replacement for Don Pedro.
In addition to accents and body language, the African theme is hammered home by lively song and dance, based around a score composed by Femi Temowo.
The chances are that BBC audiences and visitors to Stratford will enjoy what is often a bracing and entertaining experience, even if it strays rather further from the original script and intentions of William Shakespeare than devotees of the play might deem appropriate.
Reviewer: Philip Fisher