Much Ado About Nothing
William Shakespeare
HER Productions, Unseemly Women and Girl Gang Manchester
Hope Mill Theatre, Manchester
–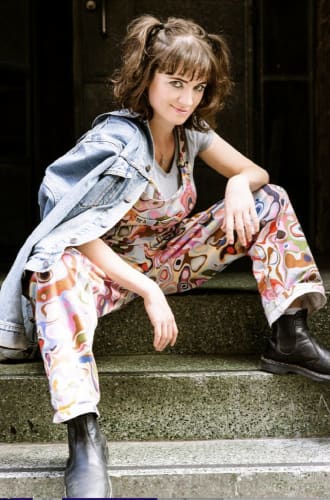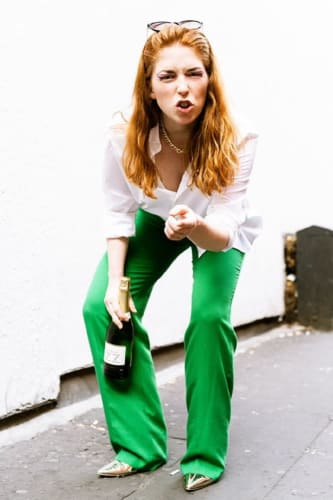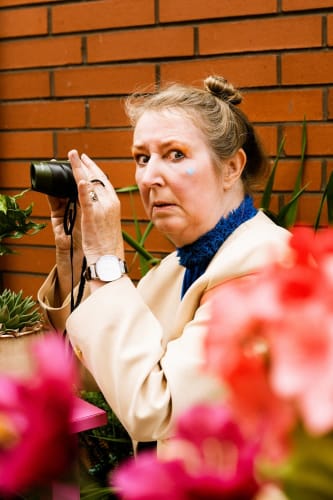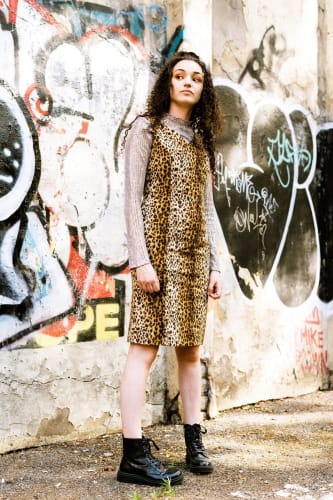 Much Ado About Nothing is sometimes described as an early example of the romantic comedy genre. Certainly, all the standard features are present and correct—a couple whose squabbling conceals an attraction obvious to everyone but themselves, pompous self-important officials and a villain willing to cause trouble for no apparent reason.
Director Kayleigh Hawkins sets a bright and cheerful tone. The soldiers may be returning from war, but it must have been a light conflict as none shows any signs of trauma or indeed of a willingness to wear uniforms—Zoey Barnes costuming the cast in garish 1980s summer casuals. Jade Golding is the main beneficiary of the costumes, her stylish clothes combining with a commanding presence to emphasise Don Pedro's authority and status.
The relaxed atmosphere is that of a long, warm summer garden party. Chloe Wyn's set is an upmarket suburban back garden with fountain, timber decking and lounge chairs and is surprisingly adaptable into a venue for dances, two weddings and even a funeral.
Hawkins makes a few tweaks to the text, the most significant being Leonarto's brother, Antonio, becomes his wife, Innogen, a development which helps explain the character's devotion to Leonarto's child. This is not the only point at which Hawkins guides the audience around some of the more puzzling aspects of the text. The permanently baffling idea of Don Pedro courting Hero (Mia Gibson) on behalf of Claudio (Daisie Moore) is played as a broad comic misunderstanding with characters eavesdropping and getting very over-excited in the background.
Hawkins does not hesitate to resolve the 'did-they-or-didn't they' question hanging over the central characters. A prologue, staged as a pop video for a 1980s power ballad complete with flowing curtains, makes very clear Beatrice (Lucy Kierl) and Benedick (Rachel Gill Davies) previously had a relationship which did not end well.
The production is one to which it is easy to relate, the synchronised dancing in the garden party scene generating roars of recognition from those familiar with a girls' night out.
The cast is strong; unusually, Mia Gibson shows Hero as more than just a dutiful daughter being outraged at the unfair way she is treated. Daisie Moore avoids any suggestion Claudio might be a chancer after a wealthy man's daughter by making Claudio a genuine romantic. Don John is an underdeveloped villain but Amy Dewsnip's mood swings from robotic aloofness to tantrums at her underlings suggests a disturbed mind. Fiona Scott milks the plumb comic role of Dogberry to maximum effect, playing the character as a condescending Tory lady much too proud of overseeing the local Neighbourhood Watch.
The concept of opposites attracting as much as wits clashing is at the heart of the relationship between Beatrice and Benedick. Lucy Kierl plays Beatrice as fashion conscious with a probing intellect and sharp tongue. Rachel Gill Davies as Benedick spends much of the first act hungover and looking like she has been dragged backwards through a hedge. When tricked into love, Benedick goes for full giddy ecstasy compared to the more dignified (and exasperated) response of Beatrice. The comic nature of the squabbles between the pair is apparent in their first encounter where, as they argue, the rest of the cast watch, as if at a tennis match.
Much Ado About Nothing is a bright and cheerful show, perfect for a summer's evening.
Reviewer: David Cunningham