Much Ado About Nothing
William Shakespeare
Northern Broadsides and New Vic Theatre
Stephen Joseph Theatre, Scarborough
–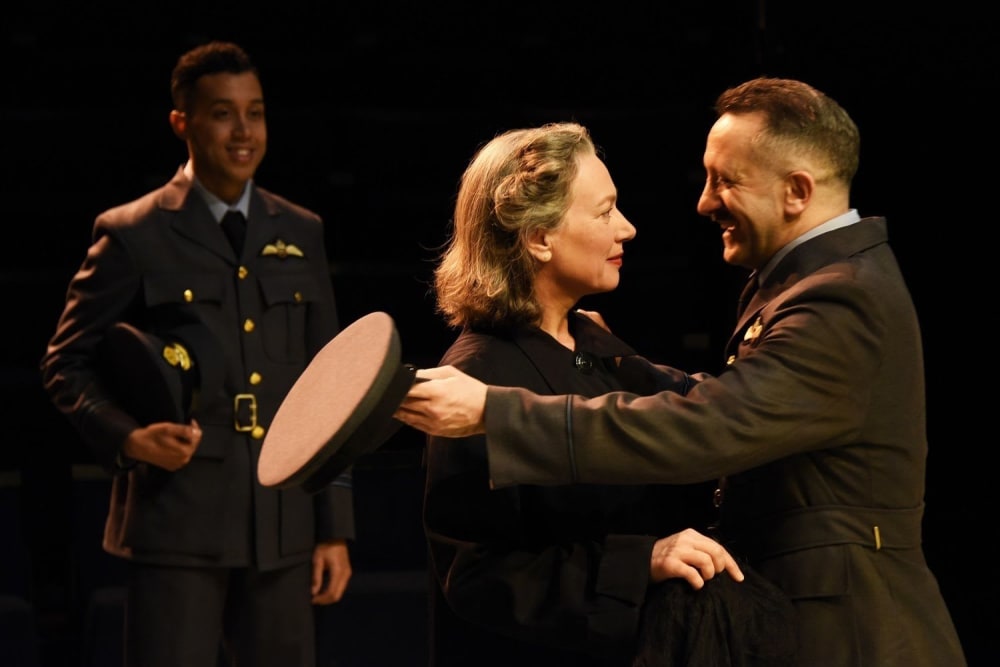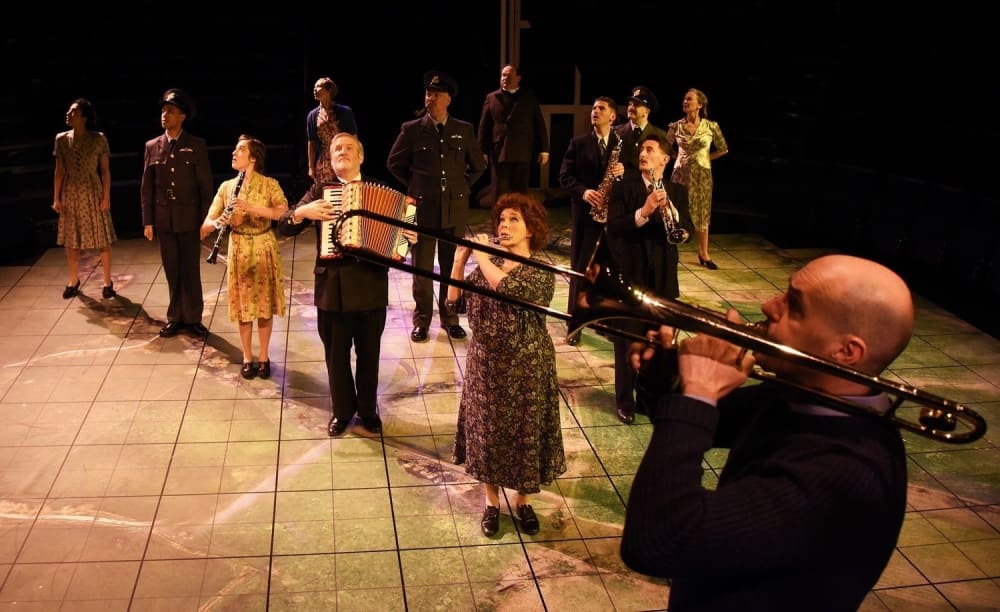 As the biting sea breeze whips around Scarborough, it takes a while for the audience to warm up to the birdsong and spring sunshine of the post-war setting of Northern Broadside's production of Much Ado…. The sound of WWII-era planes returning from foreign fields and cheery 1940s song ushers in a jolly setting for Conrad Nelson's final production in his interim tenure as the Broadsides Artistic Director. More significantly, it's apparently to be his swansong work with the company, as he and wife Deborah McAndrew dedicate themselves to their own company, Claybody Theatre.
Nelson writes of a deep personal connection to the play, with his previous experiences including a small role in the Watch in the 1992 Kenneth Branagh film and a more substantial outing as Benedick in Northern Broadsides' 2000 production.
As we've come to expect from his work with Broadsides, the show is stuffed with well-chosen music (credit also to musical director Rebekah Hughes). The performers (many familiar from previous productions) display a musical virtuosity which puts a smile on your face.
The opening sees the Land Army-ish Beatrice, Ursula and Margaret busy mulching scraps and peelings and breezily awaiting the return of the men from the front. Aptly to Shakespeare's magical suspended post-war-time, we're in a fantasy 1945, where the sun is shining and no one's son has been left behind on foreign fields.
But despite the jollity and strong musicianship, this is an uneven production which has moments of joy but fails to achieve lift-off.
Robin Simpson is familiar from the clowning masterclass he gave as Snout in the Shakespeare's Rose production of Midsummer Night's Dream last year, and his performance as Benedick is one of the highlights of the show. He delivers the character's famous soliloquies with a really zinging rhythm, and it's largely thanks to the inventiveness and energy of his gulling scene that the production comes alive.
The Beatrice provided by Isobel Middleton doesn't really match up to her Benedick, though, leaving the rhythms of their sparring rather in the lurch. It's difficult to find novel variations on this well-loved role, of course, but too often Middleton resorts to volume over nuance, like a tennis player with a devastating first serve but precious little spin.
One of the most striking, and laudable, aspects of Northern Broadsides' work is in the size of their ensembles, with a fifteen-strong cast heading out on the road. Within this, there are some jewels, and I warmed to the complicity between Ursula (Rachel Hammond), Margaret (Sophia Hatfield) and Hero (Sarah Kameela Impey).
In the famously thankless pairing of Hero and Claudio (Linford Johnson) it's definitely Kameela Impey who acquits herself better, with a simple yet powerful read on the role. Johnson aims for emotion over understanding, which again leaves us with an imbalanced duo.
Simeon Truby's Leonato is admirably clear, as is Matt Rixon, who plays Don Pedro as an only slightly camp RAF officer. The Watch is a sub-Dad's Army motley collection who hit more wrong notes than right ones.
The really consistent performance highlight, for me, is not one of the central roles. Borachio is played by Anthony Hunt as a twitching, boozy spiv, and this creation has a great sense of purpose and coherence. Granted, it tends to be a relatively easy part to decipher, compared to the rest, but the nervy preening, wincing smile and overall clarity Hunt brings to the role made me welcome Borachio's few appearances.
One other beautiful moment of clarity comes when Andrew Whitehead's Antonio, here a kindly vicar, steps forward to lay out the plan of action after Claudio denounces Hero. Whitehead (who elsewhere contributes wonderful violin to the musical ensemble) gives the speech a rhythm, logic and poetry which makes the production sing, softly and purely.
But then, in his next appearance, he's required to posture improbably, challenging Claudio with a gesture of mock-fisticuffs which unpicks any sense of continuity or intelligence to the character. For me, it sums up the production: moments of simple beauty and humour in an uneven whole.
Reviewer: Mark Smith