Much Ado About Nothing
William Shakespeare adapted by The GOAT MCR
The GOAT MCR
The Amphitheatre, Great Northern Warehouse / 53two, Manchester
–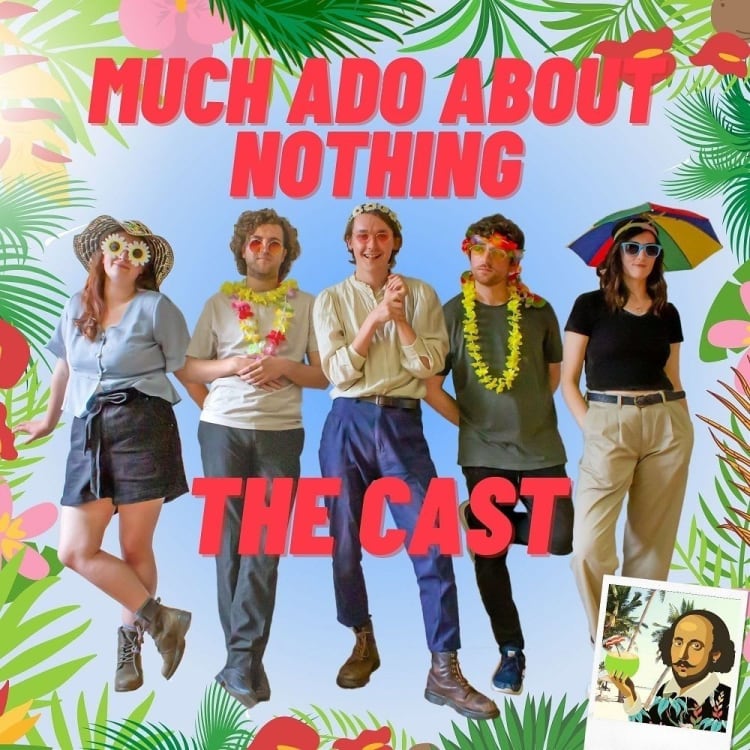 The transfer of 53two to their new premises is finished and the renovation works are nearing completion. This enables them to offer their stage to The GOAT MCR when inclement weather forces a planned out-of-doors production to seek shelter. It is a typically generous gesture and entirely appropriate as the production of Much Ado About Nothing pays tribute to the can-do spirit of Fringe Theatre just as much as to Shakespeare.
As well as hosting shows from visiting companies, The GOAT MCR has produced their own version of Much Ado About Nothing. Director Matt Holt sets a play within a play. The self-satisfied, dim dropper of malapropisms Dogberry (Sean Henry) and his long-suffering deputy Verges (Harry Mace) are due to retire from the Police Watch. They decide to celebrate by staging a re-enactment of their greatest achievement: uncovering the plot that endangered the relationship between Claudio and Hero. With the assistance of colleagues eager and bubbly Seacoal (Abey Bradbury) and not quite so eager Oatcake (Kyle Fisher) they set out to retell events from their viewpoint. However, director Friar Francis (Gemma Whiteley) is disturbed to note, by neglecting to intervene sooner, they may have made bad matters worse.
The play within a play concept makes for a leisurely start as the cast introduce their characters and debate the roles they will take. However, as the characters are innocent of the works of Shakespeare, it allows Matt Holt to point out the occasional plot weakness (why, asks one character, does Don Pedro court Hero on behalf of Claudio without mentioning his intentions to his friend?). More significantly, it also permits wider discussion on the impact of acting: the sudden shock of taking on a role and finding it is becoming emotionally real. The production is bang up-to-date with modern trends in gender-blind casting—when the constables take on the roles of Beatrice and Benedick, Kyle Fisher plays the former and Abey Bradbury the latter.
Director Holt builds a fast-paced, chaotic atmosphere close to a farce as the cast rush around changing costumes and occasionally jumping out of character. Sean Henry takes a traditional approach to Dogberry, emphasising his pomposity and self-obsession, but Harry Mace avoids the obvious with Verges using sneering asides and eyes raised to the Heavens to make clear the character regards himself as above the clowning and confusion. Fisher and Bradbury are endearingly comic, playing characters who cannot act and must rely on broad gestures. Gemma Whiteley is the typical director: trying to hold back any frustration and keep the players motivated.
Like characters in a fringe production, the cast strive to create wonders with a limited budget. The villain of the play, Don John, is not a cast member but a monstrous puppet creature conjured up from the props box using a black gown, a plague mask and a pair of claws. It is typical of the do-it-yourself attitude of Fringe theatre.
Much Ado About Nothing is a rough but pleasing production that captures the spirit of fringe theatre.
Reviewer: David Cunningham