Much
Hannah Patterson
Cock Tavern Theatre, Kilburn
(2010)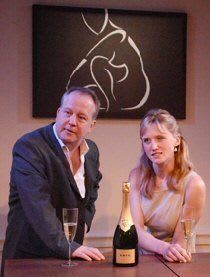 Much is a contemporary soap opera about a trio of moody, unpredictable people and the unfortunate passer-by who is dragged into their metaphorical road crash.
Writer Hannah Patterson uses a schematic plan to make her points, drifting around in time to add interest to what would otherwise be a simplistic, if unpalatable, tale of an unorthodox family behaving badly.
The opening scene introduces us to Roy, a successful businessman in his 50s with a quick temper and the kind of charitable altruism that somehow seems entirely selfish. He is about to marry pretty, blonde Helen, seemingly at least 20 years his junior.
The first break between numerous short scenes tells all the rest that we need to know about the evening. In an attractive piece of physical theatre, choreographed by director Hannah Eidinow: Helen and a man of around her own age, who turns out to be both her old flame and impending stepson, send the kind of looks across Trudi Molloy's cleverly designed kitchen that scream "sex".
For the next 75 minutes, we track backwards and forwards in time to see what a mess this threesome have made of their lives and get some kind of an idea as to why.
Roy, played by Roger Ringrose, is a rough diamond. He is the kind of deeply unpleasant businessman often portrayed in TV dramas, whose only apparent attraction is self-confident power and the money that this can bring. Even so, it is hard to understand what would attract Caroline Corrie's intelligent Helen, an artist and business administrator, to such a man.
The answer might lie in the person of Roy's son, Tom, brought to the stage by Will Irvine. His problems lie in a messy divorce that left his parents divided by the Atlantic.
After an expensive education ending at the LSE, Tom drops out and, when he meets Helen, is working as a waiter.
Gradually, we learn that the student artist and restaurant lackey both have ideas and ambitions. By the end of the play, Helen has risen to fame but then been trashed by the press, while Tom is a trendy restaurateur surely heading for his first Michelin star.
As the power within the trio swaps around and Helen flits between father and son, the drama is witnessed not only by the audience at this tiny new pub theatre but also Leonie Hill in the role of Sylvie.
Dragged by Tom along to the wedding, having only previously met him once when the chef was in a maudlin stupor at a nightclub, her main role is to step in at a critical moment and give the plot its final twist.
The Cock Tavern Theatre is to be congratulated on its ambition to bring exciting new writing to north-west London in a congenial, down to earth atmosphere. On this occasion, the play is far too obviously plotted and its characters lack the depth that one might have hoped for in a work by a highly feted young playwright.
Reviewer: Philip Fisher