Much Ado About Nothing
William Shakespeare
Shakespeare's Globe
(2011)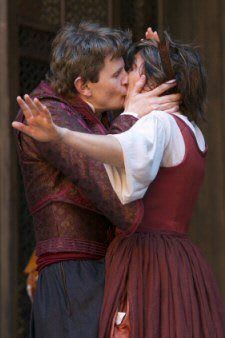 TV stars David Tennant and Catherine Tate could have a fight on their hands in the current battle of the Beatrices and Benedicks. That is because it is hard to remember a warmer audience response to any Globe production than this one.
It is unfortunate for all concerned that two productions of this lovely comedy should be opening within a week. They also have to compete with recent memories of the sensational pairing of Simon Russell Beale and Zoë Wanamaker in Nicholas Hytner's practically definitive production at the National in 2007.
At first glance, Jeremy Herrin and his lower-profile version appear to have drawn the short straw. However with a strong cast led by the magical Eve Best clearly having the time of her life and Charles Edwards out for fun, you would not wager that Josie Rourke's much-heralded production will have things all its own way.
At the Globe, Mike Britton keeps the setting simple, garnishing the stage with orange trees and flowerbeds, as well as a sinister noose and ancient ladder, which together play an integral part in one of many fine sight gags that heighten the Shakespearean comedy.
The story of contrasting aspects of love will be known to almost all. Following a triumphant battle, the soldiers return to the Sicilian port of Messina for a well-deserved spell of rest and recuperation at the home of Joseph Marcell's Leonato.
There, the moody and none too bright Claudio, played by Philip Cumbus, falls for their host's personable daughter Hero (Ony Uhiara). Although they are beset by troubles galore and an apparent death, this couple's affair is a doddle, when compared with the relationship between another more mature pairing.
Fiery Beatrice, delightfully played for the maximum pleasure of the audience by an incredibly natural Miss Best, is as determined to remain unmarried as her male equivalent, Benedick. In this latter role, Charles Edwards becomes a jokey masculine equivalent, prevented from following his romantic interests by a mixture of shyness and pride.
The pair seem to have no more in common than a mutual dislike in which they revel and that gives rise to a great flood of spectacularly witty insults.
What could be a simple half hour of fun is expanded into three hours by Shakespeare's inventive plotting. The splendid Matthew Pidgeon, a long way from his portrayal of devil-may-care Bob in Midsummer, is Don John, brimming with malevolence and eager to halt the nuptials.
His efforts almost work and are ironically thwarted by the constables led by Paul Hunter's totally mad Dogberry, a pocket-sized comic powerhouse who had the audience eating out of his hand thanks to a mixture of tics and groans, silly walks and malapropism. Hunter also finds an excellent comedic foil in the gigantic Adrian Hood's Verges.
Having amused the pit for most of the evening, the play turns considerably darker in a well-managed change of tone, before delighting everyone with its happy ending.
Herrin has asked his cast to show great physicality in order to engage the groundlings and it works a treat. It says a lot that almost all made it past the interval, by no means the norm at a theatre/tourist attraction which for visitors can easily outstay its appeal.
With traditional costume and music as well as a strong plot and excellent cast, this Much Ado deserves to be at least as big a hit as the one with the starry names in the heart of the West End. Time will tell.
Reviewer: Philip Fisher