Must: The Inside Story
Peggy Shaw in collaboration with Clod Ensemble
Soho Theatre
(2010)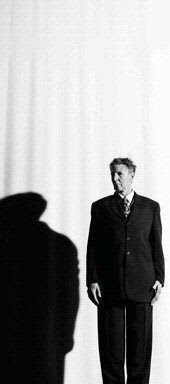 Peggy Shaw does herself no favours by styling herself as a 65-year-old lesbian grandmother, though that would seem to be the truth. She is also the co-founder of the Split Britches theatre company, and a sexy (yes, sexy, if sexy means vibrant and warm and oozing charm) solo performance artist. I fell for her completely.
She is one of a kind. 'Seismatic' she says Age-defying, life-challenging, loose-limbed fit, I'd say, a poet and a siren. Yes, she sings too. No Peggy Lee, but she can deliver a song, accompanied by the wonderful Clod trio of violin, piano and double bass, who complement her voice, and charge her silences with film noir-ish mood music. The pace and timing is just so.
She welcomes us with 'I am a pachyderm'. She roams up and down the aisles, eyeballing, engaging. But a 'musth' or 'must' bull elephant can be dangerous to humans and female elephants. During 'musth' bull elephants have a huge increase in testosterone. Hmm. Tough guy, eh. Well, that's her posture. Don't be deceived. She is one helluva a handsome guy.
Peggy is not threatening at all. Life is threatening. She may look as if she's strayed from Al Capone's gang or the streets of New York (Brooklyn, as it happens), with her macho one liners, her outsize suit and shirt, her flashy tie, and two-tone shoes, but her words are profound, witty, and she makes us laugh. The best way to learn and break down barriers
Her life's experiences mined for this one-hour show are captivatingly presented, bracing and embracing. Giving birth in 1969, in stirrups, against the forces of gravity, she knows what it is to be a woman at the hands of physicians who took some forty years before they figured out that gravity applied to women too. She'd have preferred Hendrix at Woodstock to a shave and an enema
Life's real and surreal journey has been gouged on her body - the breaks, the medical interventions, the memories, but she's lucky, she still has both breasts. She knows two things though - she won't die young, and life leaves traces.
The body's topography is revealed in words, humorous cartoons, and stunning video projections of colour-stained magnified electro-microscopic plates of body tissues, cells, a beating heart, lungs, ribs, which wash over Peggy as she stands in the spotlight or lit by her torch (lighting by Hansjörg Schmidt). Finally she becomes one with them. Her naked back, arm outstretched, is a canvas that is absorbed into the bigger picture.
The word 'must' also comes from the Persian meaning intoxicated or a state of pleasure in humans or animals. Well, the audience could all be said to be in a state of 'must' by the end.
Must is part of Wellcome Trust's nine-month UK-wide project about identity (www.theidentityproject.org.uk), which incidentally ties in with the Skin exhibition at the Wellcome Collection in London, and with the Performing Medicine project (www.performingmedicine.com), which uses the arts in training programmes for healthcare professionals.
A revelation.
Till 5 June
Reviewer: Vera Liber