My Country; A Work in Progress
In the words of people across the UK and Poet Laureate Carol Ann Duffy
Dorfman Theatre (National Theatre)
–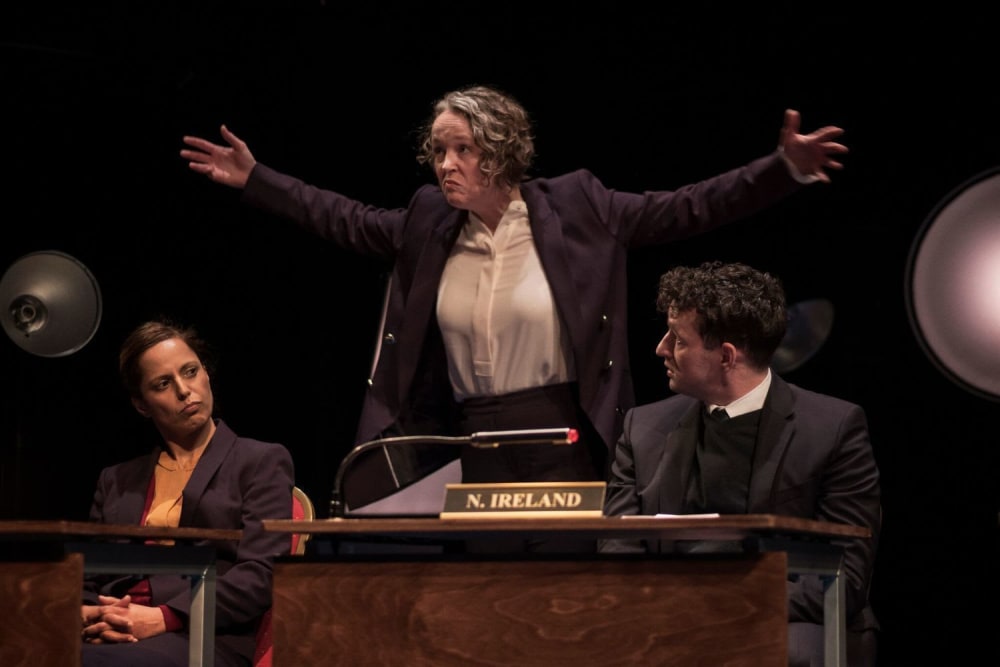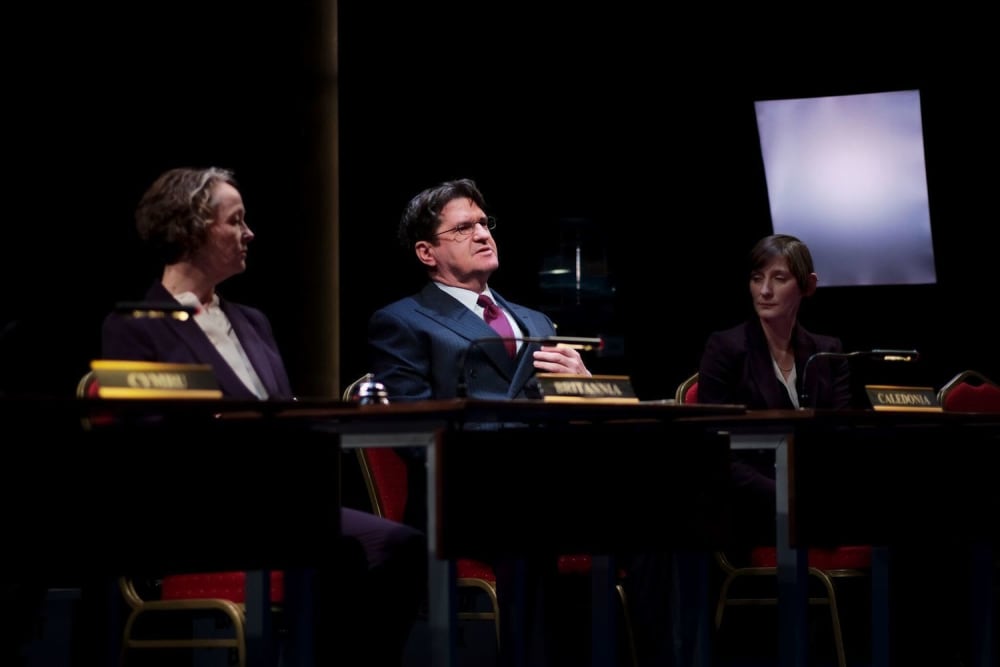 My Country; a Work in Progress is the first serious theatrical presentation to take on Britain in the period since the people narrowly voted to leave Europe following a bloody campaign but it will certainly not be the last.
Primarily using verbatim techniques, this state of the nation play seeks to provide a snapshot of attitudes to the United Kingdom, its regions and its peoples.
A bare stage initially contains little but school desks and ballot boxes. Starting with Penny Layden in the guise of Brittany/Britannia, a group of seven actors appears onstage, each of the others representing a region, although none of England's most significant, the South East, the North West or the West Midlands.
It might be suggested that Miss Layden gets more than her fair share of fun, given the opportunity to relay the words of some of the country's most significant politicians, particularly during the battle to leave the safe harbour of Europe.
At various points, she delivers David Cameron's resignation speech, large quantities of glutinous but meaningless rhetoric from Boris Johnson and Nigel Farage, as well as some upmarket blarney from Theresa May. In each case, the vocal imitations are impressive, often much more so than the arguments that the politicians deliver.
As the 90 or so minutes elapse, individual characteristics from each region develop, generally supporting but occasionally belying the words of around 30 constituents.
This means that Stuart McQuarrie in the Caledonian corner can seem argumentative but also very supportive of the continued European association.
Seema Bowri for the East Midlands has the tall but satisfying order of voicing the thoughts of minorities, mostly first or second generation immigrants but by no means united in their views.
Others are equally fired up about the nature of immigration and its consequences, though as a general principle pride in their own part of the country drives the words delivered by Laura Elphinstone for the North East, Christian Patterson for Wales and Cavan Clarke for Northern Ireland.
The joker in the pack is Adam Ewan representing the South West, a region that seemingly struggles for identity and coherent opinion, although he does get some of the best laughs of what can otherwise be a relatively dry evening.
In order to make what could be a fairly indigestible presentation more entertaining, Rufus Norris introduces contributions from Poet Laureate Carol Ann Duffy and a couple of musical themes. He also picks up on some recurring comic thoughts and tries to ensure that every viewpoint possible is fairly represented. This means that everyone in attendance, whatever their thoughts about the Brave New World (or at least country) to which we are heading hell for leather, will at various points feel both satisfied and outraged.
My Country; A Work in Progress feels like a rather brisk but welcome canter through and around a major topic and, as such, might be seen as a welcome introduction to two years of painful political debate and possibly another ten to twenty of economic and political uncertainty rather than a comprehensive exploration of the subject.
This production is branded a work-in-progress and has not yet found its focus although, with the London run followed by a nationwide tour, it may well hit top gear soon.
Given the National Theatre's status and aims, this might also be the first of many pieces designed to anatomise, satirise and quite possibly influence the most important issue facing Britain today and at the very least as open the floodgates on this controversial subject.
Reviewer: Philip Fisher