My Fair Lady
Music by Frederick Loewe; book and lyrics by Alan Jay Lerner; based on Pygmalion by George Bernard Shaw
Lincoln Center Theater
Alhambra Theatre, Bradford
–

Listing details and ticket info...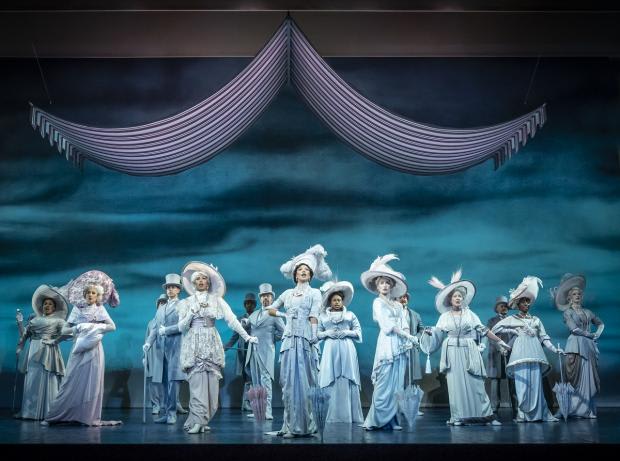 When asked for his opinion on My Fair Lady, the late, great Stephen Sondheim expressed a degree of scepticism. For him, while Frederick Loewe and Alan Jay Lerner's musical version of Pygmalion contained some top-flight songs, it was ultimately unnecessary. To quote the great man: "they painted the lily. They painted it really well, but it's painted".
I can sympathise with Sondheim's position to a certain extent. George Bernard Shaw's 1913 play—in which an upper-class phoneticist transforms a Cockney flower girl into a genteel lady—may seem dated in terms of its class and gender politics, but its sparkling dialogue and nuanced treatment of human relationships continue to be enthralling. Taking all this on board, one might agree with Sondheim that there was no reason to re-package Shaw with show tunes.
And yet, it somehow works. Loewe and Lerner's superb score—which includes such classics as "I Could Have Danced All Night", "Wouldn't It Be Loverly" and "The Rain in Spain"—manages to add another layer of pleasure to proceedings, without detracting from Shaw's prodigious wit and intelligence.
The original production of My Fair Lady famously turned Julie Andrews into a star, and since then Eliza Doolittle has become one of the most desirable roles in musical theatre, requiring the performer to metamorphose from a "guttersnipe" into the epitome of upper-class charm and respectability. Charlotte Kennedy acquits herself extremely well as the central heroine by singing beautifully and capturing the various highs and lows that Eliza experiences during her transformation.
Michael D Xavier rises to the challenge of playing Professor Higgins with great aplomb, skilfully projecting the cruelty and intellectual snobbery that other performers—most famously Rex Harrison—have brought to the part. Crucially, he also imbues the role with a boyish charm, which makes the possibility of Higgins ending up with Eliza seem more plausible.
John Middleton excels as kind-hearted Colonel Pickering. Lesley Garrett is impeccable as Mrs Pearce, Higgins's devoted housekeeper, and she is matched by Heather Jackson's understated Mrs Higgins. Tom Liggins brings combustible energy to the part of Freddy, one of the many people to fall under Eliza's spell, and his rendition of "On the Street Where You Live" was terrific.
After watching Adam Woodyatt suffer as Ian Beale in EastEnders for over three decades, it was a pleasure to see him in a lighter role. As Mr Doolittle, Eliza's feckless dustman father, Woodyatt is larger than life, full of comic bravado and a joy to watch.
Some of the most acclaimed musical revivals of recent years have taken Broadway classics from the Golden Age and re-imagined them in a new, often edgier vein. One thinks, for example, of Daniel Fish's Tony-winning production of Oklahoma!, in which the latent darkness of Rodgers and Hammerstein's show was brought to the fore.
Director Bartlett Sher does not seek to reinvent My Fair Lady but rather to celebrate the qualities that made it, at one point, the longest-running musical in Broadway history. Michael Yeargan's exquisite rotating set and Catherine Zuber's gorgeous costumes bring the Edwardian era to life in spectacular fashion. Sher's dynamic direction, coupled with Christopher Gattelli striking choreography, results in a show that pleases both the eye and the ear.
This is a delightful revival of a well-loved classic, reminding us all why audiences fell in love with My Fair Lady in the first place.
Reviewer: James Ballands