My Name Is Rachel Corrie
Alan Rickman, Katharine Viner
Graphic in association with The Other Room
The Other Room, Porters, Cardiff
–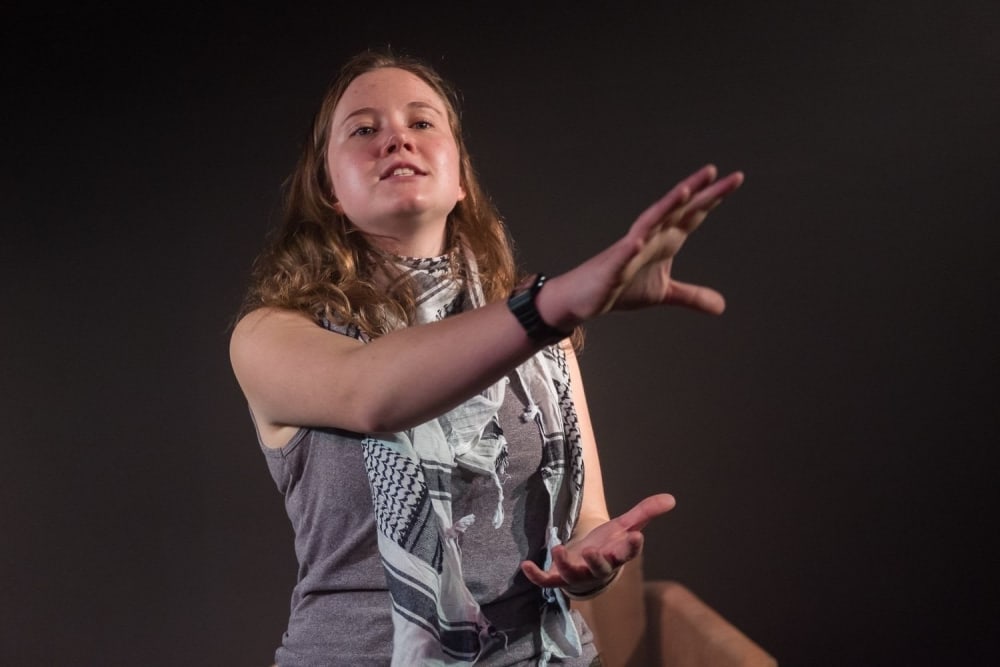 Rachel Corrie was a student from Olympia, Washington State, who died in Gaza in 2003, shortly before her 24th birthday. A volunteer for the International Solidarity Movement, she was killed by an Israeli military bulldozer, whilst attempting to prevent the homes of Palestinian residents from being demolished.
In 2005, My Name Is Rachel Corrie, adapted by actor/director Alan Rickman and journalist Katharine Viner from her writings (journals, e-mails etc) was produced at London's Royal Court Theatre, and has since been regularly performed all over the world ever since—sometimes accompanied by counter-protests. This production, from Graphic, a new company working in conjunction with The Other Room, is its Welsh première.
We first meet Rachel as she emerges from an apparently drunken sleep in her American bedroom. The daughter of a hippy-ish mother and a "neo-liberal" father, she is negotiating the customary confusions of youth regarding relationships, education, future prospects, etc.
Director Chelsey Gillard, in conjunction with designer Oliver Harman, utilises a clever visual metaphor. All of the action takes place on a raised platform which, at the beginning, is messily strewn with clothes and books. After Shannon Keogh's Corrie has risen and dressed, she gradually packs everything into a large canvas rucksack, until the stage is bare but for a covering of sand, and her battered journal. Thus, youthful directionlessness steadily gives way to a righteous militant anger.
The text largely resists the urge to assail the audience with explicitly political speech-making until its later stages. Instead, we are given a portrait of a playful, thoughtful, creative young woman whose journey to the Middle East is inspired, ironically, by that same "can do" American interventionist spirit which has been blamed for so much trouble in the world.
Keogh (still a student on the increasingly important BA Drama course at Trinity St Davids in West Wales) is highly persuasive as the spunky heroine whose freewheeling naïvety slowly fades away as she immerses herself in the suffering of the Palestinians amongst whom she is living. Jai Morjana's lighting design subtly reflects her darkening mood and Matthew Holmquist's soundscape grows ever more redolent of war as the piece progresses.
Since My Name Is Rachel Corrie is based on personal testimony, there is no obligation for its authors to paint a balanced picture of the conflict in which Corrie becomes involved. One does find oneself troubled, however, by the fact that the broader context (bombings in Israel, the continuing impact of the 9/11 attacks etc.) is only mentioned in passing and the heroine's assertion that she is surrounded solely by people indulging in peaceful, passive resistance seems a little (to use a reference she makes early in the play) Pollyanna-ish.
Corrie's death has been exploited by people on all sides of the political argument. This piece, however, rises above such cynicism. Perhaps more successful as a character study than a political polemic, since it raises more questions than it answers, it is a powerfully presented love letter to youthful idealism.
Reviewer: Othniel Smith