My Perfect Mind
Kathryn Hunter, Paul Hunter and Edward Petherbridge
Told by an Idiot, Young Vic and Theatre Royal Plymouth
West Yorkshire Playhouse Courtyard Theatre
–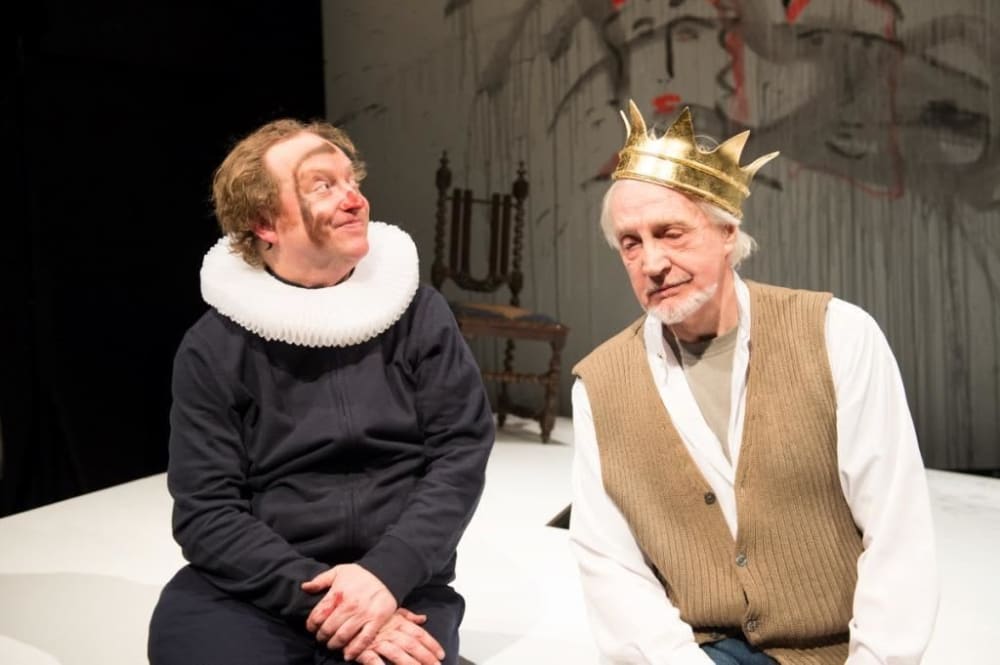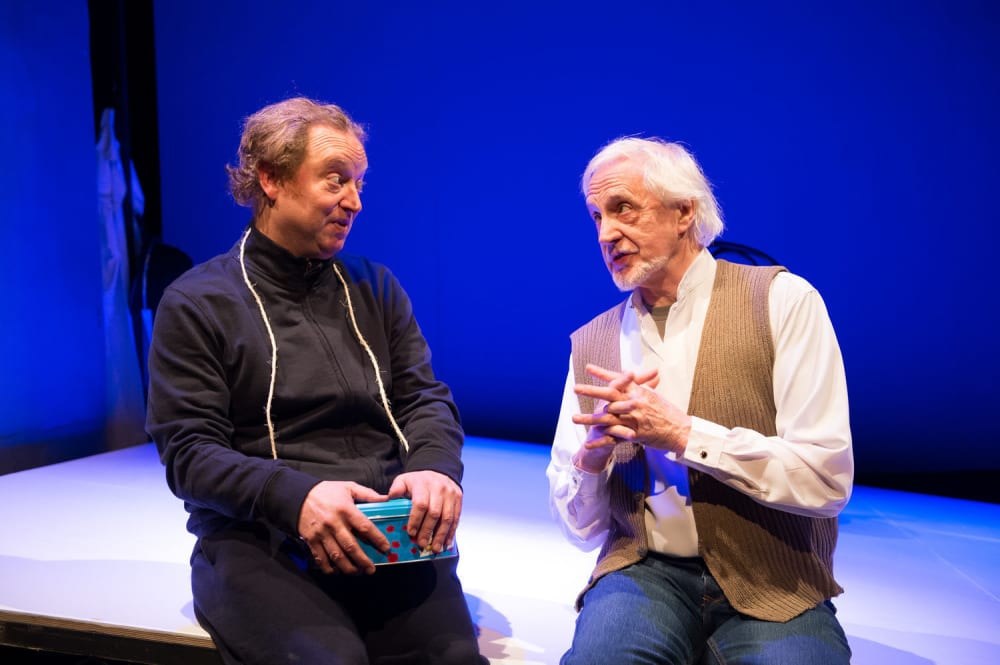 Having debuted this show last year, Paul Hunter and Edward Petherbridge now return for another tour of their superlative two-man "comic tale of a man not doing King Lear".
Told by an Idiot, a feisty twenty-one years old this year, ploughs some of the same fertile territory as devising behemoth Complicite, and in fact this show is directed by that company's founder member Kathryn Hunter. But, where Simon McBurney's enterprise turns visual imagery and gigantic-scale international productions to the service of adaptation, Paul Hunter's company remains resolutely human-sized—Complicite's chatty, personable, more nimble younger cousin.
So part of what you get from this 90-minute two-hander is an absolute masterclass in comedy and clowning of all kinds—both physical and verbal. Unassuming in person, Hunter has honed his comic instincts with an expertise which seems always organic, never forced. If there's one thing this man knows, it's how to deliver a punchline; "here's a good fool", as Petherbridge aptly announces.
The pair are a match made in heaven, the Morecambe and Wise of theatrical anecdotage. Some of the audience have clearly come to hear Petherbridge recount tales of his previous roles, and in this they were not disappointed. Now aged 78, he has done service with a number of distinguished companies, notably as one of the first members of the National Theatre company, where he was the first Guildenstern (or was it Rosencrantz…) in Stoppard's breakthrough comedy.
The clowning sensibilities and sharp mind required for that mammoth role have not diminished in the intervening years, and Petherbridge gamely sends himself up, swapping the roles of straight man and comic lead repeatedly with his co-performer and deviser.
Structurally, the show again evidences the company's trademark devising expertise. The rule of threes, the repeated gag or catchphrase, extended setups and callbacks, and the return of certain anecdotes "once as tragedy then as farce"—all are in strong evidence here.
There are moments of anarchy and lines which could have been lifted straight from The Goon Show: "I never forget a pair of legs!", exclaims Hunter at one point. But he also plays obedient sounding board to Petherbridge at key moments, with his hunched attentiveness evidencing his onstage generosity and the clear bond between the duo.
To say too much about the twists and turns of the evening would be to spoil some of the joy, but Paul Hunter welcomes us in to a scenario which sees us genuinely uncertain as to who is playing whom in the show. As a ridiculous German scientist, he warns us that the man soon to enter the stage is suffering from a dose of Edward Petherbridge Syndrome, believing himself to be "a tawdry actor in West Hampstead", liable to flog us his autobiography at the entrance to the theatre.
The evening hinges around the relationship between the pair—or the three if you count the ever-present ghost of Lear, of whose presence the Arden text becomes a poignant totem. Petherbridge was signed up to a performance of the emblematic role for a company in New Zealand, but suffered a severe stroke before rehearsals could get properly under way.
This performance that never was haunts a superbly comic evening which manages simultaneously to provoke guffaws and probe the actor's attack and thwarted ambitions. Various other ghosts are conjured over the evening as the show probes Petherbridge's autobiography touchingly but never mawkishly, irreverently but never disrespectfully.
There is so much to take away from the show, whether you're a Petherbridge fan, an aficionado of the theatre (joyous dramatic gags and puns abound), or just a lover of well-crafted comedy which asks with lightness of touch and moving perceptiveness: "where does memory end and imagination begin?".
Reviewer: Mark Smith