My Perfect Mind
Kathryn Hunter, Paul Hunter and Edward Petherbridge
Told by an Idiot
Young Vic's Maria Studio
–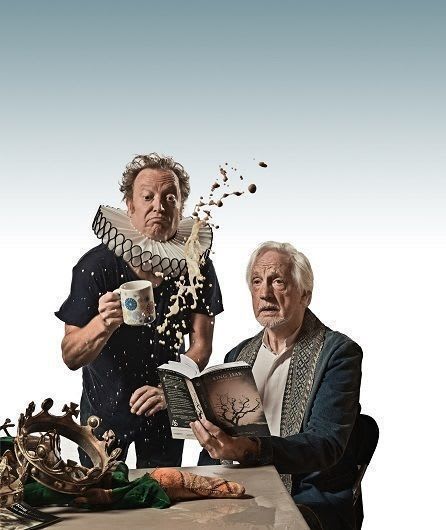 It is hard to believe that any of the small number of theatregoers who manage to catch the ill-conceived and ill-fated London production of The Fantasticks could have imagined any good would come of it. However, the stars by some way were Edward Petherbridge and Paul Hunter and, had they not teamed up on that occasion, it is unlikely that this zany comedy would ever have been created.
My Perfect Mind spends 90 minutes veering backwards and forwards between the sublime and the ridiculous, somehow managing to combine an eccentric staging of scenes from Edward Petherbridge's autobiography, Slim Chances and Unscheduled Appearances, with the King Lear that he was prevented from delivering, all viewed through the unorthodox kaleidoscope of a Told by an Idiot production directed by Kathryn Hunter.
This two-hander starts out strangely and becomes increasingly eccentric. There is, however, a serious message underlying it, since the play is a celebration of physical fortitude.
Well beyond the age of 70, Edward Petherbridge was due to play King Lear in New Zealand but, just before the production's opening, suffered two strokes, the second physically debilitating, leaving him partially paralysed.
Rather than accepting the inevitable, like his mother who had a stroke two days before her son's birth, the two graphically represented during a dual cataclysm at either end of Michael Vale's sloping stage, he just got up and carried on.
At long last, in the oddest circumstances, the 76-year-old finally gets to play King Lear with a strong accompanying cast, all played by Paul Hunter.
While some of the classical acting gets buried beneath the whimsy, the "very fond, foolish old man" speech is deeply touching and shows audience members what New Zealanders missed out on.
Long before that, the evening opens with a kind of Germanic prologue as a doctor of some indeterminate type with a terrible wig warns us to anticipate a bad case of Edward Petherbridge Syndrome. In fact, the evening turns into a charming example of that syndrome, showing the veteran actor to good effect, particularly when his perfect comic timing is called upon.
My Perfect Mind is built up using a concoction of Shakespeare, pure (or perhaps impure) biography, theatrical reminiscences, physical and verbal gags and even a spell of Rolf Harris-style painting, though the results owe more to Jackson Pollock.
There is even a little bit of audience participation, on opening night apparently randomly featuring James Graham, whose embarrassment suggested that he might have preferred an evening enjoying yet another viewing of his smash hit This House, still packing them in around the corner at the National.
It might not be easy to describe the dreamlike qualities of My Perfect Mind but anyone with a love of theatre, especially Told by an Idiot's unusual plan, King Lear or such Edward Petherbridge highlights as Newman Noggs in The Life and Adventures of Nicholas Nickleby or Guildenstern in Tom Stoppard's riff on Shakespeare Rosencrantz and Guildenstern are Dead will have a whale of a time.
Reviewer: Philip Fisher