My Perfect Mind
Kathryn Hunter, Paul Hunter and Edward Petherbridge
Told by an Idiot, Young Vic and Theatre Royal Plymouth
Young Vic (The Maria)
–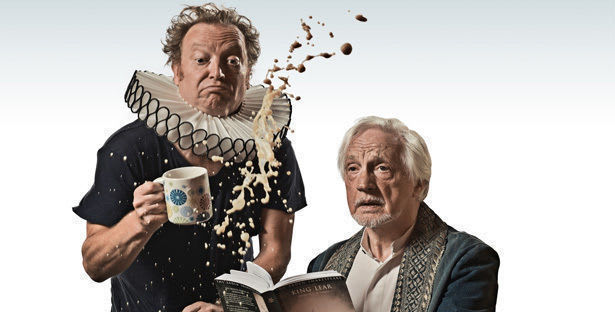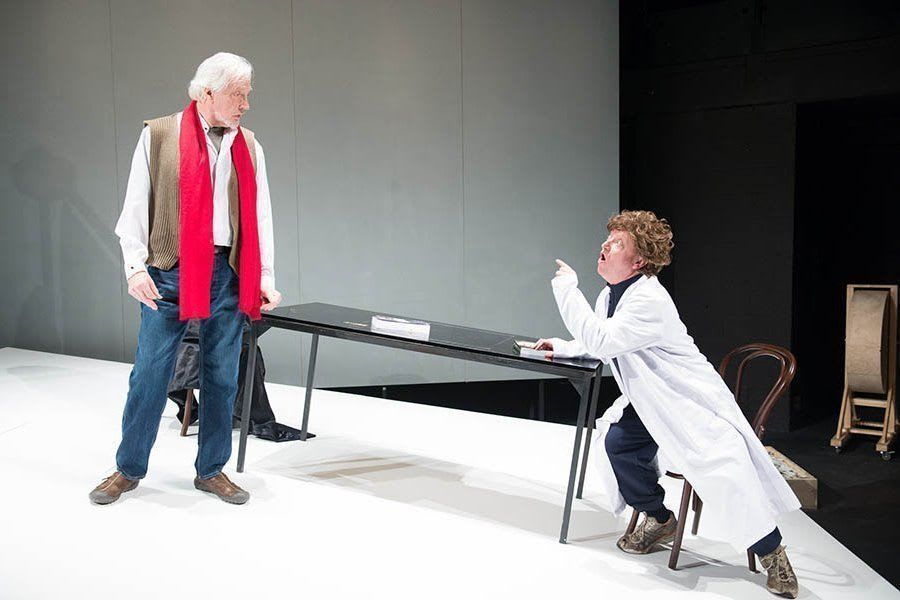 In 2011, actor Edward Petherbridge published Slim Chances and Unscheduled Appearances, an autobiographic book that ranged from personal history and theatrical reminiscence to poetry and artwork. Two years later, that personal story furnished this delightful show which is now back at the Young Vic at the beginning of a tour.
In 2007, aged 71, Petherbridge had just begun rehearsals playing King Lear for a company in New Zealand when he suffered two strokes that forced him to withdraw. My Perfect Mind (it's a quote of course) is built around that story and a tongue-in-cheek opportunity to achieve that ambition to give his version.
It is a wonderfully zany confection, created by the performers and their director Kathryn Hunter, that mixes "cold scientific fact" with fiction, framed as a lecture by a mad German professor (Paul Hunter, apologising for his possibly "borderline offensive" accent—something that becomes a running gag) who warns that "none of it is real".
Dr Vitznow presents this man, who thinks he's an actor going to play King Lear, as a prime example of the EP Syndrome. Herr Doktor may call his career fictitious but we know better, although Petherbridge himself questions where memory ends and imagination begins as he takes us on a journey from the backstreets of Bradford to the National Theatre of Laurence Olivier at the Old Vic and onward.
After referring to an underground encounter with Donald Wolfit, Petherbridge remarks that younger members of the audience may have heard a sudden breath: the sound of their elders' memories stirring.
He offers quite a few similar moments as he fleetingly dips into a career that encompasses playing Guildenstern in Stoppard's Rosencrantz and Guildenstern Are Dead at the NT, Newman Noggs in Nicholas Nickleby for the RSC, a song and chants from The Royal Hunt of the Sun and even a disastrous production of The Fantasticks.
Of course, we also get his New Zealand experience in rehearsal for his Lear: with highlights of both stage and real life tragedy too, glimpsing a performance that never was and there is a piece of Keats on Kean as well as personal anecdotes.
Paul Hunter has a ball and keeps the audience in stitches playing all the other characters. They range from Petherbridge's mum (a hair net stretched over his awful wig) who herself suffered a stroke just before giving birth to him, a East European lady academic whose speciality is Lear, now working as his yellow-gloved cleaner, and an incompetent Kiwi ASM on her first day of professional theatre to her excitable director and a satirised Sir Laurence attempting to combine Richard III and Lear in one performance.
Petherbridge's Lear includes creating cartoon graphics of ungrateful daughters that splurges into Pollock-like action painting and Hunter spends the storm scene rushing from thunder sheet to wind machine to rainbow to great hilarity. This is a gleeful ninety minutes that is largely laughter, a lot of it theatrical in-jokes (though the references are so well-known that surely everyone will get them) but behind it a reminder of the frailties of age and a touching picture of recovery.
Just when you think it might be becoming a little self-indulgent, Kathryn Hunter's production sends itself up, almost literally turning the tables precariously placed on the steep rake of Michael Vale's rostrum setting.
After the Young Vic, it is touring to Bristol, Leeds, Liverpool, Birmingham and Barcelona. If that includes your territory, you're in luck, for if you love theatre you should catch it.
If you want more detail and something serious instead of this madcap entertainment, there is Petherbridge's autobiographical book, which Philip Fisher reviewed on publication.
Reviewer: Howard Loxton