My Child
Mike Bartlett
Royal Court Theatre Downstairs
(2007)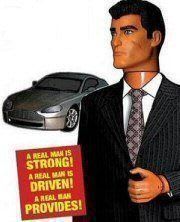 Dominic Cooke has set out his stall early in his reign as the Royal Court's Artistic Director. He clearly believes that the theatre's primary purpose is to discover new playwrights of the highest quality and has bravely backed his instincts with three consecutive productions by tyros.
Polly Stenham has already shown real talent Upstairs with That Face and now Mike Bartlett suggests that Cooke's initial discovery was more than just the result of good fortune.
My Child is a naturalistic drama in a doubly unusual setting. The theatre has been cramped down into a kind of rush hour tube carriage, losing the circle and much of the normal stalls space.
In fact, at times you forget that this is the large Downstairs auditorium rather its smaller black box sibling, such is the intimacy of Miriam Buether's design. The feeling of involvement is then enhanced by the appearances of actors from the audience, often to deliver only a couple of lines before melting back into the entranced pack.
The play may last less than three quarter of an hour but it packs a mighty punch, literally in the violent final scene.
This is a contemporary story of a broken family and the waves that marital acrimony stirs up. Nine year old Child, played with great assurance by Adam Arnold, lives with Woman (Lia Williams) and her smarmy red-headed new husband Karl (Adam James).
Man (Ben Miles) wants access to his son but struggles to empathise with the little boy and gets bullied because he is intrinsically nice. There are intimations that their upbringings have made the Child's parents what they are, Woman as hard as her ex is wimpish; and that society today won't tolerate the loser.
The drama heats up as, first, Man kidnaps the boy and hides him in Scotland and then sadistic Karl comes to the rescue with stunning impact.
My Child addresses a number of important issues - broken families, child-beating (was it his father or Karl who hurt the boy?) and moral rectitude - all in the time that it takes for a single frame of snooker. It is a really edgy drama that shows Mike Bartlett to have an original and totally convincing authorial voice.
Sacha Wares' compact production is at different points both tender and harsh and could well leave some visitors shaken but also stirred. With this cast and word of mouth, tickets were sure to be at a premium but the effort will be richly rewarded. Thanks to Dominic Cooke's bright idea of offering 500 tickets to under-26s at a fiver each, that is guaranteed.
Playing until 2nd June
Reviewer: Philip Fisher