Mydidae
Jack Thorne
Dry Write
Soho Theatre Upstairs
–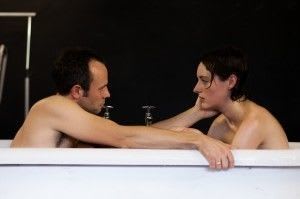 While for many, this will merely be a voyeuristic chance to enter the lives of an ordinary couple for a few brief moments, Mydidae is one of those rare plays that might just make the odd viewer reassess his or her life and change their behaviour as a result.
Jack Thorne has established himself as a writer whose work is always worth catching up with, getting regular opportunities to show his worth on both stage and screen.
Mydidae is a small-scale drama that packs a big punch long before the end of its 90 minutes. Its intention might more easily be divined by explaining that mydidae are species of large flies.
From this it might be inferred that viewers are supposed to observe the precedings with the dispassion of lepidopterists or even birds / insects that regard others as tasty prey.
While the writing is good, it helps a lot to have actors as good as Phoebe Waller-Bridge (who also starred in Thorne's politically inspired play 2nd. May 1997) and Keir Charles, under the sure direction of Vicky Jones, Dry Write's co-artistic director with Miss Waller-Bridge.
Marian and David are a happy young couple who seem to spend an inordinate proportion of their time in a well-appointed, Amy Jane Cook-designed bathroom, that comes complete with fully-working facilities. This is where they smooch and fight, chat and debate, as the mood takes them.
In the early scenes, David is intent on preparing, via ubiquitous mobile, for a major sales pitch which, in the manner of all good salesman and even bad ones like Willy Loman, he is supremely confident of winning.
Marian has time on her hands, having apparently dropped out of the rat-race. When time permits from work and calls to Mummy, they also talk about the ordinary day-to-day matters that fill their time and that favourite subject of the Brits for centuries—class.
The plummy lady has enjoyed a rather exclusive education, while her partner required the assistance of the state to get to his final position on the educational ladder, although he has done well enough for himself.
Underlying the sunny exteriors, one begins to identify nagging undercurrents and not just in the slowly filling bath.
As in so many of this writer's works, the smooth veneer gives way to a series of revelations that totally alter audience perceptions and potentially leave the pair in a very different relationship at the end of the play from that at the start.
What makes Mydidae worth seeing is its portrayal of recognisable people just like those that we meet every day in the pub, office or even our own homes. Put them into stressful situations and you never know what might happen.
It is recommended that readers should not miss out on what is a relatively short run of a particularly deep and thought-provoking look at contemporary lives.
Reviewer: Philip Fisher