Myelination Triple Bill
Choreography Michelle Dorrance in collaboration with dancers and musicians
Dorrance Dance
Sadler's Wells
–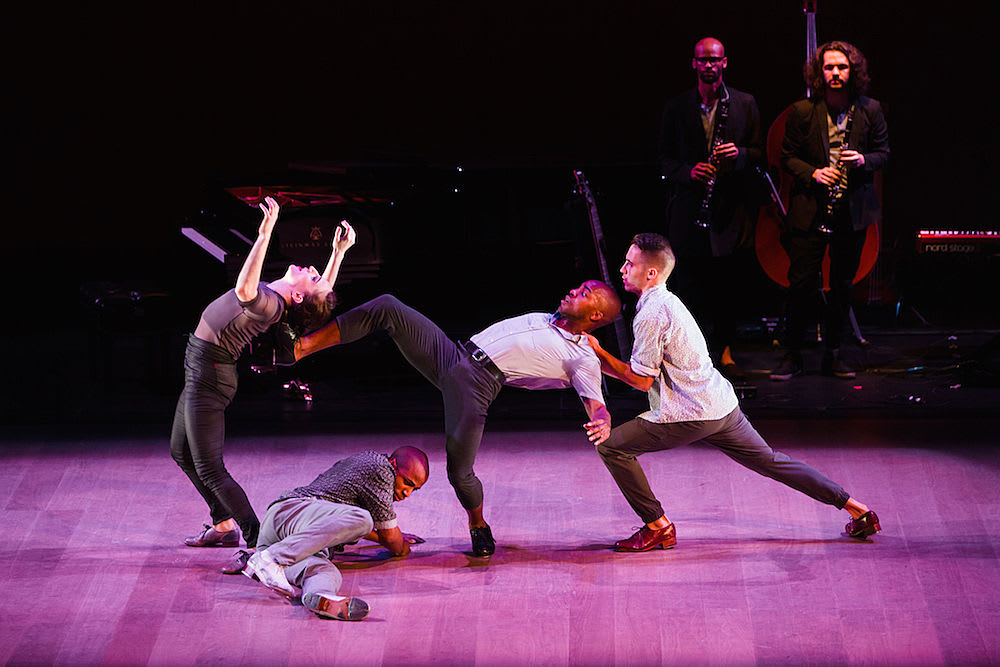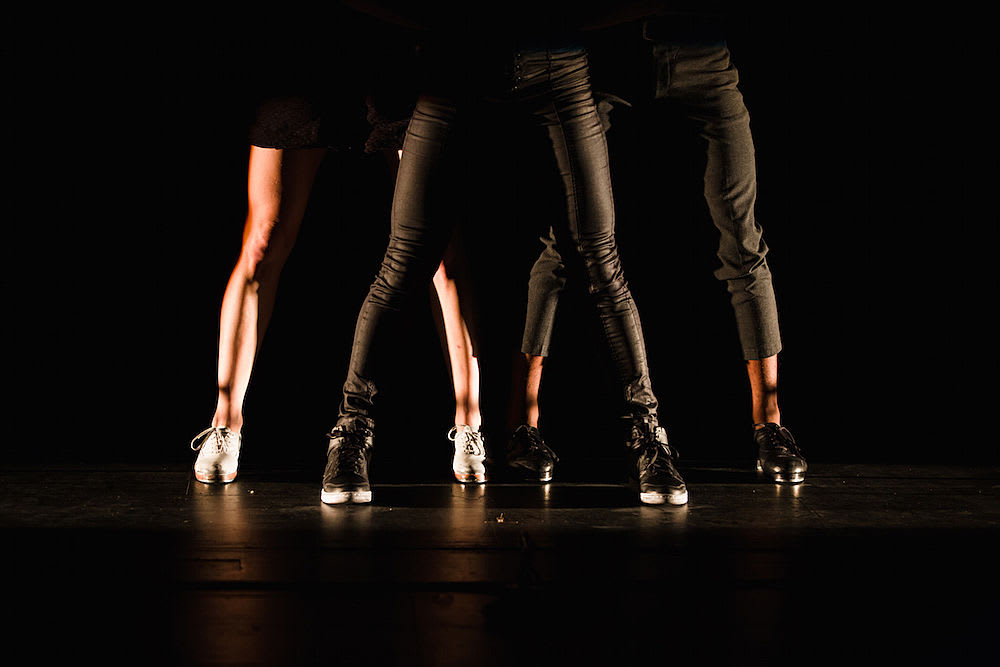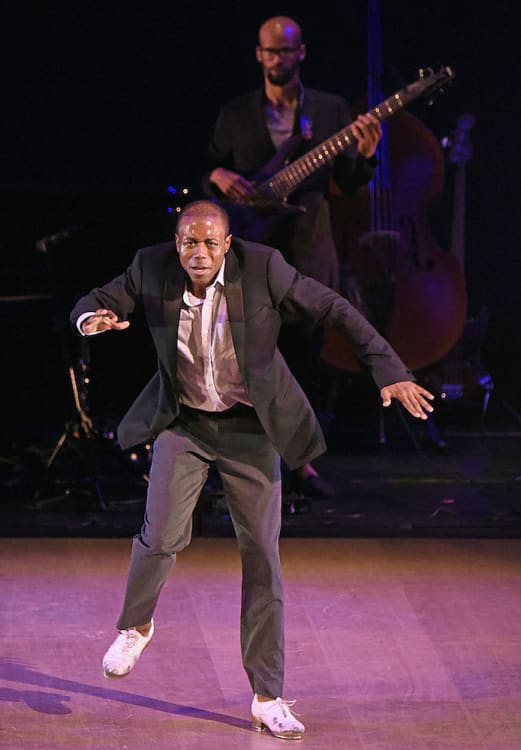 What drives the impulse to dance? Is it an external (music) or an internal (biological) force? Check the dictionary definition of myelination. Myelin "is a lipid-rich (fatty) substance that surrounds nerve cell axons (the nervous system's wires) to insulate them and increase the rate at which information (encoded as electrical impulses) is passed along the axon." Got it?
Impulse speeded up and transmitted by 'myelin' dancers, and that's what we get in Michelle Dorrance's inventive tap dance crossed with acrobatic street dance (b-boy and b-girl head spins and flips) and contemporary moves. Tap dance as we know it and as we don't know it, in concert with jazzy music. Cool moves and cool sounds.
Two short nine-minute numbers (Jungle Blues from 2012 and the Bessie-award-winning Three to One from 2011) to warm us up, and then the main fifty-minute showcase meal, Myelination (2017), to live music with band on stage. The band is great: Donovan Dorrance piano, keyboard, clarinet; Aaron Marcellus keyboard and vocals; multi-instrumentalist Gregory Richardson bass, guitar, clarinet; percussion Nicholas Van Young (dancer, too), and ballet-trained dancer Warren Craft on guitar.
And the beat of percussive feet... We should be dancing in the aisles, but cheers, claps and shout-outs there are. I missed this New York based company's (founded in 2011) first visit to Sadler's Wells in 2017: I'm glad I've caught up with them at last.
Jelly Roll Morton's 1927 "Jungle Blues" has dancers stepping out of the ten-strong line-up to show their moves in exhibitionist solos and dancehall competitive duets, dance battles and conversations. There's plenty of wit and humour in this throwback to the early jazz club night era. A swig from a hip flask and the girl can keep on going. Are we receptive to this!
Three to One, to a mix of Richard D James's (Aphex Twin) ambient techno electronica "Nannou" and Thom Yorke's plaintive "A Rat's Nest", is a platform for three pairs of legs—lit from the knee down—two barefoot men (Byron Tittle and Matthew "Megawatt" West) and Michelle Dorrance in tap shoes. The boys are street cool, graceful in their moves, but there's something emotional, introverted about it, all three in their own private worlds.
Myelination—fifty minutes of tap sounds a lot but does the time fly—and the band on stage has much to do with that. Dancers come forward to do individual pieces then slip back into the dim background or take up an instrument. Aaron Marcellus's scat singing matches the improvisations from the company's dancers. It's a concert of original music (Prawn til Dante by Donovan Dorrance and Marcellus) and original dance, lit by Kathy Kaufmann in moody midnight blues and shades of red.
B-Girl Ephrat "Bounce" Asherie switches from street to tap without blinking an eyelid; Christopher Broughton with a big smile on his face could keep on forever; Nicholas Van Young, a big guy, moves with deceptive lightness; Warren Craft (love him) surprises with his quite different from the rest contemporary dance inflected twitches and droll pauses; West, melding tap and b-boy, is remarkable, as is Byron Tittle; Leonard Sandoval with his long dreads, Claudia Rahardjanoto and Elizabeth Burke are powerful and Michelle Dorrance, well, she's the driving force.
Costumed by Amy Page in casual style, some in suits, this is tap for today, not a revival of Fred Astaire or Gene Kelly or the Nicholas Brothers, though their DNA is in there somewhere. Slipping and sliding, skating and jiving, staccato tapping and easy backflipping, balletic, moody, soulful, sparky, anything goes, street battle competition and rapport, palmas and TGV speed. The beats go on.
Reviewer: Vera Liber