My Mother Said I Never Should
Charlotte Keatley
Salisbury Playhouse Salberg Studio
(2005)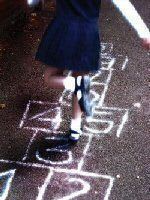 Director Tamson Hoare attaches great importance to the setting of this play as "a magical place where things can happen".
Alas, Kit Surrey's design falls somewhat short of this edict, highlighted in the director's note. Perhaps the problem lies within the close confines of the tiny studio. Yet I have seen a magical setting here for Shakespeare's A Midsummer Night's Dream.
Is it, then, Neil Dakin's sound or Kevin Scott's lighting that fail to capture that elusive "magic"?
It is certainly not the actors who move deftly between the years and the generations to capture the lives and times of the four related women in focus.
On the face of it Janet Whiteside as Doris has the most challenging role, being required to flit between the ages of five and seventy-odd as the play unfolds its jumbly sequence of times and periods. And herein lies the remakable feature of this work as it proceds to disprove the confident assertion of theatre experts (to Tamsin Hoare herself apparently) that this sort of back and forward construction simply would not work artistically.
Actually, it works very well. With a little more of that theatrical magic it would be extremely powerful. Not that the result is more than moderately entertaining. For this is a connoisseur's piece, fascinating to lovers of meta-theatre, though distinctly sombre in tone.
Lisa Kay is a powerful Jackie with Victoria Shalet a captivating Rosie and Sara Coward a sharp-tongued but vulnerable Margaret.
The production runs until 19 November.
Reviewer: Kevin Catchpole