Where's My Seat?
Plays by Deirdre Kinahan, Tom Wells and Jack Thorne
(The New) Bush Theatre
(2011)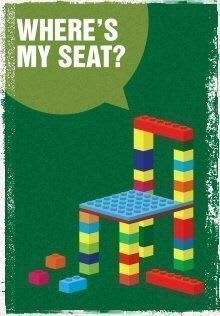 Like their compatriots at Hampstead and the Arcola, habitués of the Bush are going to have to get used to new, much more luxurious premises.
That might sound like a silly statement but much of the grungy, old pub theatre's charm lay in its dilapidated condition and the ambience that was so often perfect for the kind of plays that worked best there.
The pub theatre has been replaced by a library and Where's My Seat? is a kind of getting to know you event. Three short plays are separated by rather longer intervals.
These give visitors a chance to explore the building, seeing mock-ups of a well-stocked theatre library, dressing rooms and writing spaces, backstage parts and a garden. In addition, opinions are being canvassed about many of the constituents that will eventually comprise the new theatre.
At the moment, the redesign is still in process, with fittings typically represented by drawings on white walls, which are mirrored in the evening's witty stage designs from Amy Cook and Lucy Osborne
It all feels very solid and respectable, which will take a little getting used to, but the acclimatisation process has been assisted by a sense of fun and the decision to commission a trio of playwrights and director Tamara Harvey, all with suitable Bush credentials.
Josie Rourke has chosen to make the evening a kind of theatrical parlour game. The writers have unusual constraints. First, they are obliged to fiddle in an eclectic selection of nine props borrowed from the National Theatre. Next, each must work with a different configuration.
Finally, stage directions, which must be respected and applied, however unlikely, are imposed by three big names. The best is actually from a fourth, Mike Bradwell whose "He does something that no one has done before. He does it again" seems a stroke of genius.
The Fingers of Faversham by Deirdre Kinahan
The eponymous fingers are stomach-churning in their authenticity, whether worn as a necklace or not. They clash with the plot of this brief play from the writer of Moment, following stage directions imposed by Michael Grandage.
The play features an amdram company of long standing that is going off the rails. For some unexplained reason, its moving force Margery, played by Francesca Annis, has recruited a new director Nina Sosanya's Denise to create Wind in the Willows within a thrust.
The in-jokes abound as this dedicated, young auteur viciously deconstructs Kenneth Grahame's classic in a fashion that seems all too believable.
The light comedy doesn't always hit its target but will prove an eye-opening reminder of what can go wrong with even the simplest of ideas.
Fossils by Tom Wells
The Bush's current Associate Playwright has inevitably been asked to work with Sir Alan Ayckbourn's directions in the round.
Fossils features a couple of geriatrics played by Miss Annis and Richard Cordery, each on top form.
In the long ago, they so nearly got together and, using deadpan delivery, relive the near misses of lives that have consisted of little else.
The theme makes this a bittersweet comedy and the random props and instructions then add a veneer of welcome absurdism.
Red Car, Blue Car by Jack Thorne
Bush favourite Jack Thorne delivers the deepest and best of the plays end-on with the assistance /hindrance of Josie Rourke's (and Mike Bradwell's) directions.
It takes time to realise that what appears to be a parallel running of the story of a couple who met on the Internet and lived happily ever after is anything but.
Though Phil and Marie, respectively played by Hugo Speer and Nina Sosanya, never meet, it is the moment when their lives almost conjoin that changes both forever.
Reviewer: Philip Fisher