Nakamitsu
Benjamin Yeoh
Gate Theatre, Notting Hill
(2007)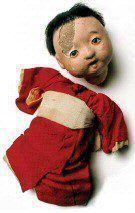 This must be the shortest text ever to win a play translation prize. The winner of the Gate Theatre and Oberon Books Translation Prize 2006 does not quite make it to ten pages in the published script.
However, thanks to the collective efforts of a talented company, this 50 minute long Noh play proves both satisfying and intoxicating, following a louche, uncharacteristic opening.
The Gate has been transformed into a long traverse with a narrow white catwalk for the performers, part of Mike Britton's clean design, adventurously lit by Hartley T A Kemp.
On entrance, one is greeted by a gyrating, adult schoolboy who eventually starts a lurid striptease in the noisy night-club setting. By the time that he has been replaced by a colleague, choreographer Michael Ashcroft has had much fun but done little to illuminate the plot.
At that point, the club is invaded by a hoody with a gun and a business-type, from which point the contemporary prologue is underway, spoken at breakneck speed in a language that is presumably Japanese.
The four actors and composer-musician Anshuman Biswas don robes and take us back to ancient Japan and the ritualised world of Noh.
The Lord Mitsunaka's lazy son, Matthew Burgess' Bijiyo, has not been studying as his father would wish. Therefore, retainer Nakamitsu, played by Richard Clews, is sent to retrieve the wastrel who returns to face a furious father accompanied by Nakamitsu's own son, Kochiyo (Peter Bankolé).
Daniel Williams as Lord Mitsunaka is so angered by the illiteracy and all-round ignorance demonstrated by his son that he orders Nakamitsu to behead the boy.
However, obeying the ancient way, the old man, rather than killing his young master, sacrifices his own son. From there, the inevitable pleas for clemency and a commitment to behave well in future ensue.
Nakamitsu is a simple tale, given real life in Jonathan Munby's excellent production by the atmospheric music of Biswas. This is played by the composer and also the actors on a variety of often unusual instruments, including most memorably, one that looks like a dented wok but sounds heavenly.
This soundscape, together with strong acting from all, especially Clews and the very expressive Burgess, is then enhanced by beautiful choreography and the simple, bare and often poetic translation that initiated the production.
Nakamitsu may last under an hour but this visually and aurally stunning event punches well above its weight and offers a very enjoyable and unusual evening with plenty of time for dinner at the end.
Reviewer: Philip Fisher