Name of the Game
Paul Ricketts and Steve Gribbin
Comedian Theatre Company
PBH's Edinburgh Virtual Fringe 2022
–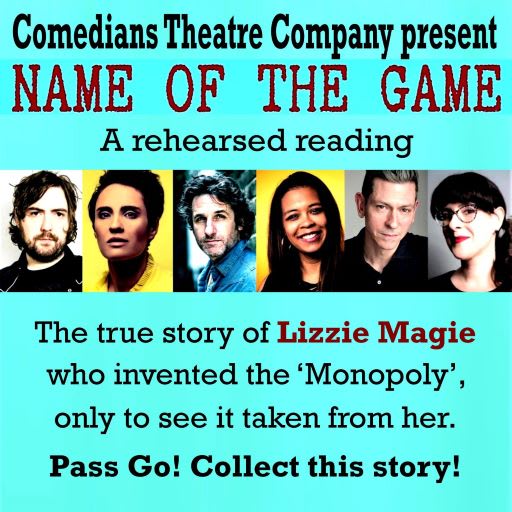 The Comedian Theatre Company has been an Edinburgh staple for over 15 years. It gives comics working on the Edinburgh Fringe an opportunity to fill some daytime hours transforming into actors and maybe even earning some additional cash.
As a result of the ravages of the pandemic, Name of the Game hasn't yet made it to the stage but instead enjoyed a rehearsed reading via Zoom in March 2021, which is now being offered as a Virtual Fringe online production.
The starting point is an intriguing story of corporate malpractice. Commencing in the early years of the 20th century, it follows the efforts of Lizzie Magie played by Jen Brister to launch her Landlords' Game to the American public.
However, thanks to a lack of financial sophistication, weak copyright laws and skulduggery perpetrated by both Nick Helm as businessman George S Parker and Tom Stade portraying chancer Charles Darrow, her wealth and fame were diverted in their direction.
As a medium (almost literally since it is related post mortem) to tell the story, we are introduced to Alyson June Smith in the role of American journalist Mary Pilon as she researches "The Monopolists", her book on the creation of the game that eventually became Monopoly.
Rather than resting with this plot, the story is then complicated by the introduction of a professor who created his own Anti-Monopoly, which was apparently a great commercial success as well.
At times, rather than concentrating on a promising thesis, the play tends to feel too much like a vehicle for comedians to deliver often quite weak, vintage and determinedly anachronistic jokes, while the acting is also of mixed quality.
There is undoubtedly the kernel of something quite special here and perhaps because it was still a work in development at the time of the recording, the final version, when it eventually sees the light of day, may be considerably stronger.
Reviewer: Philip Fisher