Nan
John Masefield
Orange Tree, Richmond
(2007)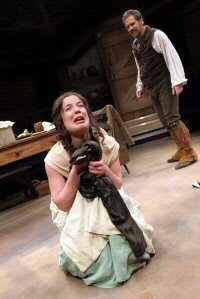 Nan is a real oddity. Written almost exactly a century ago and set a further 100 years before, it is a kind of mythic melodrama that takes place in a West Country farmhouse nicely created by Jude Stedham.
The real interest is in the writer. John Masefield is far better known as a poet, who achieved laureate status long after this play was written.
Nan was a big hit when Harley Granville Barker produced it in the West End in 1908 with his wife Lillah McCarthy in the title role. However, it now seems stylised and overwrought and, to be fair, on this showing, the poet's talents lay more on the page rather than the stage.
However, in Auriol Smith's production, reputedly the first on stage since 1943, there is much to amuse, not least in a sympathetic central character who might be a distant spiritual cousin to both Tess and Ophelia.
Katie McGuinness makes the most of her starring opportunity, giving this passionate young woman real heart and making her wholly sympathetic, even after madness threatens.
This instability is not unreasonable given her history. Nan has been orphaned following the loss of her loose mother and the hanging of her father for stealing a sheep. She loyally maintains his innocence even in the face of the cruellest of aunts, played at hiss-worthy level by Kate Lock.
The love of a good man might have offered Nan redemption. However Edward Bennett's handsome but fickle Dick Gurvil soon chucks her up for rather backward, goose-necked cousin Jenny (Amy Neilson Smith).
The sentimental morality play inexplicably turns away from the naturalistic and takes on a metaphysical element in the final act. This change in mood arrives courtesy of the malign influence of Gaffer, enjoyably played by Trevor Martin, and strangely follows the arrival of a Deus ex Machina bringing good news.
Gaffer is an old man who yearns for reunion with a wife dead for almost three score years but builds a great empathy with the young heroine before leading her to an ending that could as easily have come from some other play.
Nan is not a drama of the highest quality, with its excessive contrivances and inconsistent motivations. However, it is amusing and presents some memorable characters, though several others simply represent types written to achieve the author's desired result.
You might never get the chance to see another play by John Masefield and this one is worth a visit for curiosity value and also to see impressive central performances from Katie McGuinness and Kate Lock.
Reviewer: Philip Fisher