Narcissist in the Mirror
Rosie Fleeshman
In The Mirror / PUSH Festival
HOME Manchester
–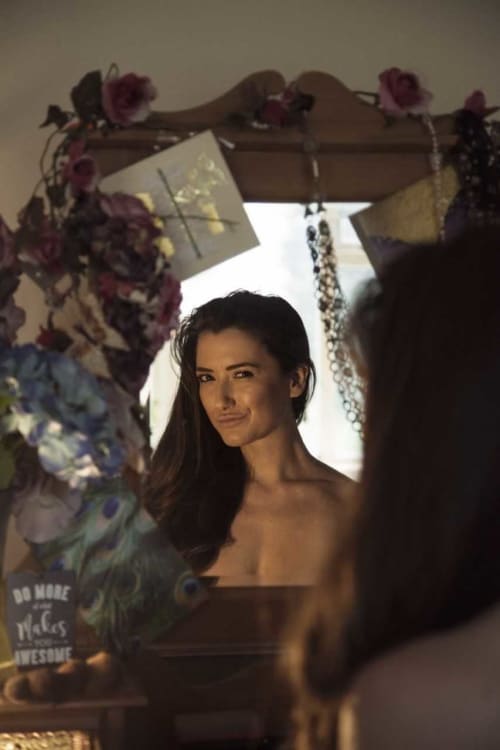 Using '90s hit "You're Gorgeous" by Babybird as its theme tune, Narcissist in the Mirror takes its audiences through the home life, student life and sex life of its twenty-something character—which may, to some extent, be actor-writer Rosie Fleeshman herself.
According to her producer-director-mother, Sue Jenkins, when she spoke to me last week for the BTG podcast, Fleeshman had written a number of "spoken word" pieces (poetry, in other words) and Jenkins suggested bringing them together into a play. The resulting piece was very successful on the Manchester fringe last year before being selected for this festival—and I'm certain it will continue to go further.
You can tell that the script consists of a number of standalone verse pieces, but it is tied together so neatly with prose that it all fits together seamlessly and the direction and performance from the mother and daughter team make it totally believable as the thoughts of a single person.
Like Fleeshman, her character is the youngest of three, her brother the eldest, has a mother called Sue—she does a very unflattering impression that is recognisably like former Brookside and Coronation Street star Jenkins—and went to drama school. Beyond that, I couldn't say which parts come from genuine experiences and which pure invention.
The piece speaks the thoughts of a young woman with the frankness of Fleabag (the fringe show by Phoebe Waller-Bridge that went on to become a TV series) but with the attention to verse and rhyme of one of Luke Wright's plays and occasionally a delivery that brings to mind Kate Tempest.
The story takes us through home life, competing with her sister to be second favourite after their brother (the men in the family get off very lightly, her father not mentioned at all), avoiding school sports, manipulating boys by playing whatever role she thought they liked from a girl (with the help of some men in the audience) and then getting into drama school—a good one, she says (Fleeshman went to Rose Bruford).
Then there's college, meeting someone she didn't have to manipulate by pretending to be someone else and then leaving to become an actor—to find the world of acting wasn't waiting to embrace her and give her lots of work. She tells about the embarrassment of telling people she is an actor and then being asked what she'd been in, and of the normality of domestic life, the break-up of a long-term relationship and her discovery of dating app Tinder, where her biggest frustration was the poor grammar of the people with whom she was matched. And she concludes she is probably a "shit feminist".
Set in a theatre dressing room as she makes up at the mirror (although even that isn't what it seems, as we find out at the end), a lot of these pieces are very funny, well-observed and sharply-written, but it isn't all laughs. There's a moving piece on depression early on, and an intriguing and thoughtful poem that looks back on a relationship on which she walked out with fondness and admiration for what her partner did for her but not with any kind of regret.
By the end, our nameless heroine admits that she has no great moral crusade but wants to be an actor simply because she wants people to admire her. Whether or not this is Fleeshman's own motivation—it can't be easy to be noticed as the youngest in a family full of actors—she has certainly produced an admirable piece of theatre that is both sharply observant and brilliantly entertaining—and very well performed.
Reviewer: David Chadderton