Narrative
Anthony Neilson
Royal Court Theatre Upstairs
–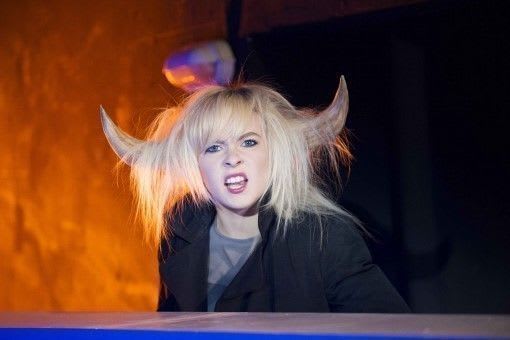 Narrative has the feel of a Mike Leigh-style devised piece. However, where Leigh always seems to pull his disparate elements together into a satisfying whole, by the end of 1¾ hours on this occasion, loose ends abound.
The evening opens with a filmed commentary about an early cave painting showing a wounded bison and dying man in mortal combat and these images recur throughout the play.
The seven actors mostly take their own names for those of the characters that they portray and all dress in T-shirts sporting photos of themselves as children.
A series of disjointed stories make up the text and frequently involve one of three topics. The first two are the break-up of relationships, in two cases using almost exactly the same farewell lines and the experiences of those in or near to the acting profession.
The latter is best exemplified by the interactions between Ollie (Rix) and Barnaby Powell's Noel, two unsuccessful actors who share a flat and get on well. That is until the former strikes it lucky, finding himself cast opposite George Clooney playing the title role in Hollywood cartoon turned blockbuster, Elasticman.
Completing the existential set, death begins to appear, in the form of an absolutely inexplicable murder, a suicide that may have been induced by a prescription drug and, more confusingly, following the instructions in a hand-written note.
The conversations, usually between pairs take place on a long, wide set with a screen on which to project images, usually of bison.
For whatever reason, Zawe Ashton gets many of the best opportunities to shine, playing a panicky PR with a speciality in forming short-term relationships, apparently as a consequence of her confused genetic inheritance.
By the end, viewers may have a slightly better idea of the professional and social lives of actors, as well as an insight into some people's irrational fears. Whether they have learned as much about real life as writer / director Anthony Neilson intended could be down to individual tastes.
Reviewer: Philip Fisher