Nel
Scratchworks Theatre Company
Scratchworks Theatre Company
Vault Festival
–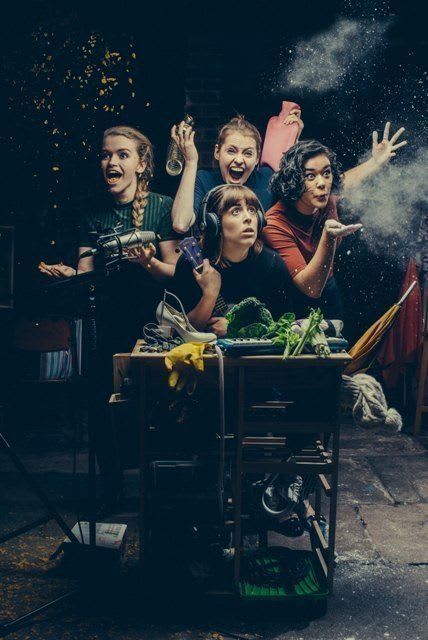 I have been listening to the sound of everyday objects differently since leaving Scratchworks' Nel at Vault Festival.
This is an apparently simple yet intricately crafted show that punches above its weight.
The Nel of the title is a foley artist, foley art being the reproduction of sound effects for addition to films and other media in post-production.
The show loses no opportunity to demonstrate the craft as it tells its engaging story of shyness and friendship. Door handles, rubber gloves, hot water bottles, cabbages and cornflakes are just part of an auditory landscape that also includes songs, music and the human voice.
Nel is rather nerdy about sound. Shy and socially unconfident, put upon by her overbearing boss Verity, she finds it difficult to be heard in and outside of work.
Fussed over by equally lonely Aunt Flora, what Nel needs is a friend, never more so than when both her companionable cat and goldfish die, leaving her living totally alone.
Nel eventually joins a film club—cue another great set of clever, humorous sound effects for Brief Encounter, Amadeus and Texas Chainsaw Massacre—and she finds friendship with the equally quirky, would-be screenwriter, Bea.
Setting aside for a moment the delightfully witty and clever use of everyday objects to create sounds, from the outset Nel is also a joy to watch.
The virtually wordless scene where Nel is tussling with herself to work up the courage to go out is one of several that are sweetly touching, whilst other moments are purely comic, sometimes slapstick in their nature.
This is an ensemble work where a step is never put out of place by any of the four–woman team in a carefully and imaginatively choreographed piece of physical theatre that borrows from clowning, miming and dance.
Add to that artful object manipulation and other puppetry work, what you get is a show densely packed with things to stimulate your imagination and emotions.
The cast are uniformly excellent, working together effectively in delivering this heart–warming story. Sian Keen plays Nel, Hanora Kamen Aunt Flora, Alice Higginson Verity and Laura Doble Bea, all three sharing the other roles, seamlessly changing characters with the addition of a scarf or accent.
Masterly onstage foley art, songs, music and movement coming together in the hands of such a skilful team makes this charming show more than the sum of its parts.
Reviewer: Sandra Giorgetti