Network
Adapted by Lee Hall, Based on the Paddy Chayefsky Film
Lyttelton Theatre (National Theatre)
–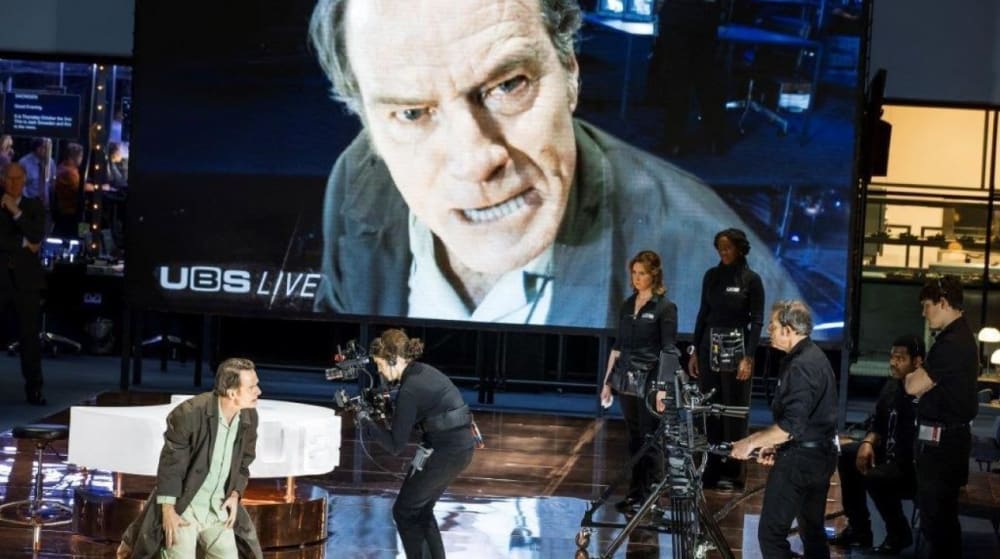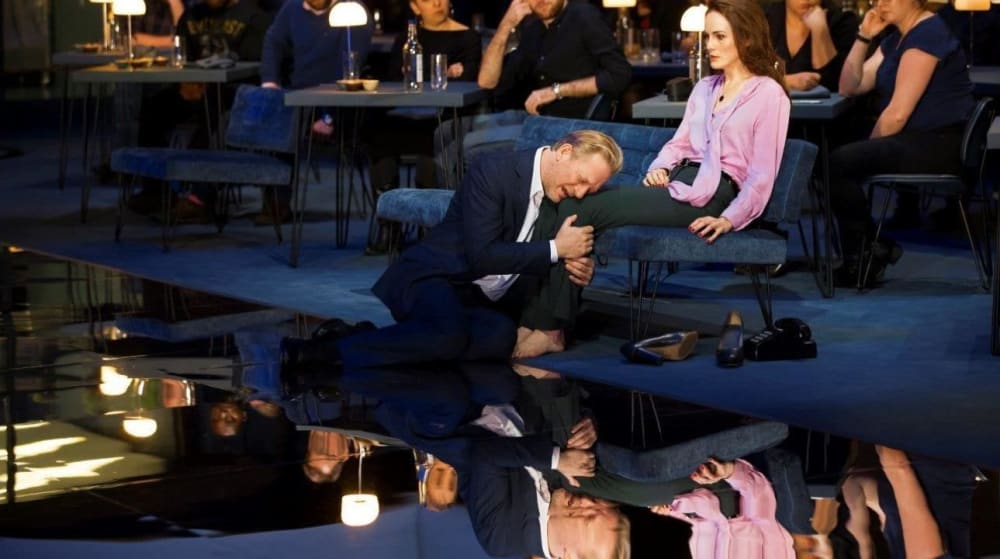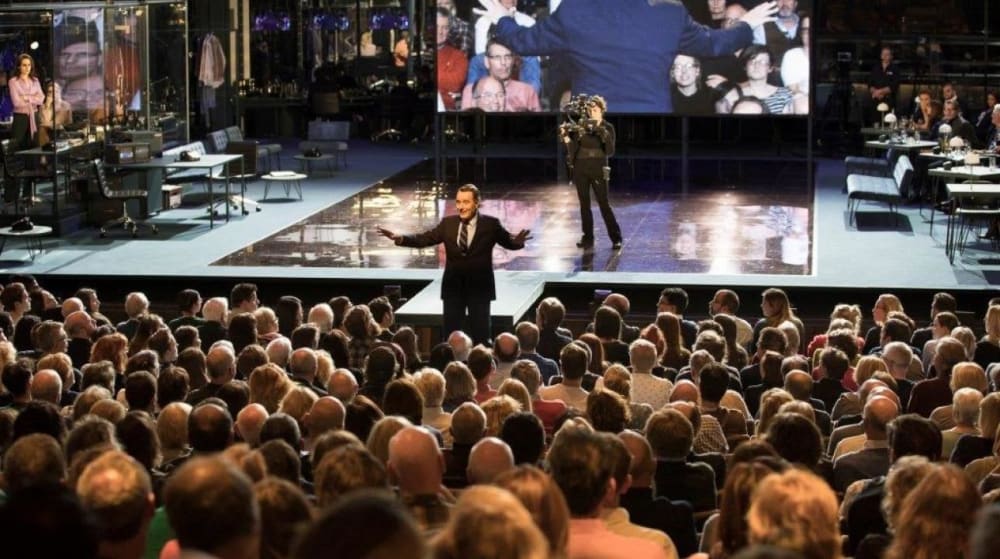 Having already identified 2017 as the best for new plays in living memory, another contender for primus inter pares announces itself in the shape of this reworking of the hit Sidney Lumet movie of the same name from 1976, starring Peter Finch, William Holden and Faye Dunaway.
The National has pulled out all the stops to ensure that their version would be exceptional. Not only have they paired the book writer behind Billy Elliot, Lee Hall, with cult director Ivo van Hove and his designer of choice Jan Versweyveld but to play the leading role of Howard Beale the producers have imported Breaking Bad favourite Bryan Cranston.
Every one of these choices has proved inspirational in a thrilling evening that is closely adapted from the original and combines rich comedy, social commentary and tragedy in a mere two hours.
The staging is entirely appropriate to the subject matter. Network follows the activities of UBS, an American TV megalith, and particularly its 6PM news hour, anchored by Beale. As such, the stage is set up as a TV studio (albeit anachronistic) filled with numerous cameras and a large screen onto which many of the most significant events of the evening are projected.
Bringing the world into the newsroom, a small, very select group of audience members sit at tables stage left, where demure staff serve what looks like a substantial meal, together with frequently refilled glasses of wine.
By September 1975, Beale's news show has lost its audience, not to mention $35 million a year for the recently taken-over production company. As a result, hard-nosed executive Frank Hackett played by Tunji Kasim fires both his news man and a little less directly the show's editor, Douglas Henshall in the role of Max Schumacher, after over 50 years of combined service.
However, before leaving, Beale delivers a mad farewell promising on-air suicide and seemingly ending the evening less than 10 minutes in.
Bitterly bemoaning his own fate, Schumacher gives Beale a second opportunity to sin, which he duly achieves in a hilarious sequence that will appeal to anyone who has ever been too timid to tell their boss (and tens of millions of TV viewers) what they really think.
In a cynical twist, Beale's farewell boosts the ratings so much that the network's programmer, Michelle Dockery's Diana Christensen, makes a bid to take over the show and retain the services of "the mad prophet of the airwaves", a kind of modern Frankenstein's monster. The thrusting young executive also gets up close and personal with the previously happily married Schumacher.
Having been given carte blanche to behave badly, Cranston goes into messianic overdrive portraying his character descending into the kind of madness that is normally reserved for Hamlet, before issuing a series of diatribes attacking capitalism, corporate greed and all that is wrong with the world.
Despite the 1975 timeline, so much of the message still feels entirely appropriate today as we hear about corruption, terrorism, mad men with guns and Russians and Saudi Arabians causing problems for those residing further west.
The combination of a man urging the world to repeat his mantra "I'm mad as hell and I'm not going to take this anymore" and then delivering deep philosophical and humanitarian messages about the state of the world is irresistible.
This production looks great, is highly intelligent, suitably dramatic while conveying a message for our times and features the kind of performance from Bryan Cranston, making the kind of National Theatre debut, that is likely to sweep the board when the awards season comes around.
Strangely, at the moment, Network does not appear to have been programmed by NT Live which, following Diana Christensen's doctrine in the play, should remedy the position immediately to boost both ratings and profits. Therefore tickets are likely to be at even more of a premium unless a transfer or extension can be managed but beg, steal or borrow to share in a really outstanding theatrical experience.
Reviewer: Philip Fisher