You Never Can Tell
George Bernard Shaw
Garrick Theatre
(2005)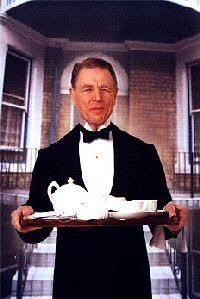 You Never Can Tell shows George Bernard Shaw in his very lightest mood. Even so, he cannot hide his political predilections and, in particular, his belief in equality between men and also for the ladies regularly intrudes.
The plot starts promisingly as the Clandon family arrives at an English seaside town, fresh from an eighteen year stint on "perfectly respectable" Madeira. However, even a visit to that oxymoron, a penniless dentist, is enough to prove that they lack something that society demands.
Mother, played by Diana Quick may be a writer renowned across the island, Nancy Carroll's delectable and nubile Gloria, "nature's masterpiece" and the youngsters, Sinéad Matthews and Matthew Dunphy, really irritating scamps, but without a male to head them up, this family of free thinkers is nothing.
In Act 2 we move from the dental surgery to a restaurant dining terrace. There the party has expanded with the arrival of Ken Bones' Mr Crampton, a grumpy, ascetic, bearded landlord and a gangling, smartly dressed lawyer, William Chubb as M'Comas.
A shock is in store for all as M'Comas reveals that Crampton is the missing father. He doesn't have the guts to do so himself and persuades William the waiter to do so. This admirable and remarkably sagacious man is a general force for good. In Edward Fox's splendid performance both his voice and manner come across just like dear Jack Warner when he was honest bobby Dixon of Dock Green.
The romance is provided as the hapless dentist Valentine (played by Ryan Kiggell) makes love (in the old sense) to sweet Gloria, initially with remarkable ineptitude. Eventually, after a "duel of sex" and some fine acting, especially from Miss Carroll, the pair appear sundered forever. In this way, they have followed the fortunes of the lady's parents.
The happy ending is engineered by the arrival of Michael Mears as an omniscient but rather sinister barrister (and the waiter's son). He it is who makes warring couples see sense. More surprisingly, he turns the awful little horrors of children (which, in the 1890s, 18 year olds were) into well-behaved members of polite society, at least temporarily.
Sir Peter Hall is one of the few directors regularly reviving Shaw. This Play Pleasant may not be the writer's best work but in the run up to Christmas it provides some harmless fun and much laughter.
Visit our sponsor 1st 4 London Theatre to book tickets for
You Never Can Tell.
Reviewer: Philip Fisher