I Never Get Dressed Till After Dark on Sundays
Tennessee Williams
Good Night Out Presents
Cock Tavern Theatre, Kilburn
(2011)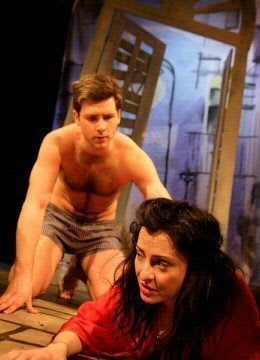 It is quite something to be able to say that you have seen the world premiere of a play by Tennessee Williams - and in his centenary year to boot. Even better, to achieve this goal, rather than an expensive journey to New Orleans or New York, all that is required is a trip to Kilburn High Road.
With a modicum of support, I Never Get Dressed Till After Dark on Sundays is to all intents and purposes a two-hander. Attractively set by designer Mike Lees in a stylised version of New Orleans' Vieux Carré, the central characters are trapped in a play within a play.
Tye, portrayed by the mountainous Lewis Hayes, is a drug-injecting stripper (not of paint but his clothes) with a laid-back attitude to life that leads him to utter the sentence in the title. His tiny landlady/lover, Shelley Lang convincing as Jane, is more highly strung and, at her most stressed, a kind of cutdown version of Blanche Dubois.
They discuss life and love, filling their story with characters such as gangster Fat Charlie, six-foot tall lesbian Big Edna and headlining stripper, The Champagne Girl. There is also a Brazilian businessman who is former actor Jane's hope for a meal ticket, since she naïvely hopes that this gentleman caller might buy her old-fashioned clothing designs.
For most of their play, the couple discuss their relationship and its sell-by date, which seems long gone. Only in the final scenes do we learn a secret that could be seen to have changed everything and adds a touch of pathos to proceedings.
Sitting amongst the audience are Cameron Harris playing the English director of the play and Keith Myers taking the Williams role as the drunken writer. They inevitably fall out over the quality of the writing and give extra challenges to a pair of actors who are already struggling with a substandard play.
While for the most part, this is Tennessee Williams in second gear with the characters there or thereabouts but the storytelling leaving one in doubt as to whether it is to be taken tongue-in-cheek or not. The playwright (as opposed to the character of that name) then adds that extra dimension by looking at his characters from the outside through the eyes of the Playwright, Director and a comic supernumerary.
Whenever a 40 year old play by a great playwright is unearthed, there is a fear that it may not pass muster. There is enough in the hour or so of I Never Get Dressed Till After Dark on Sundays to justify the visit, particularly for Williams fans. Even so, it is not likely to be classed in the top rank of plays from a man who at his best was sublime but also knew how to plumb the depths.
Reviewer: Philip Fisher