Neville's Island
Tim Firth
Chichester Festival Theatre
Theatre in the Park, Chichester
–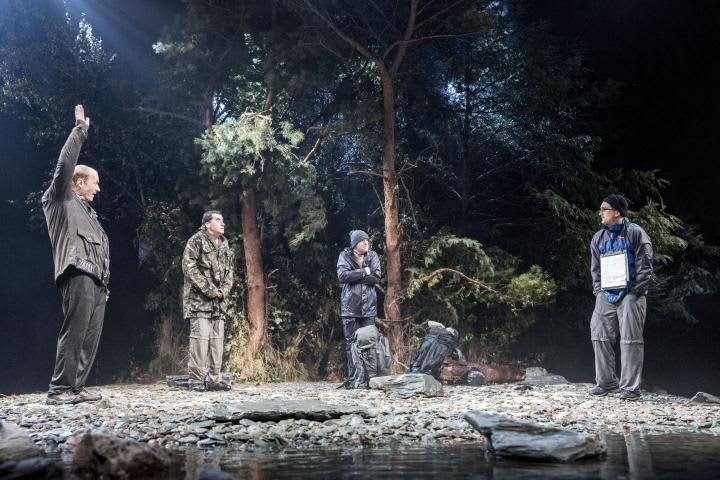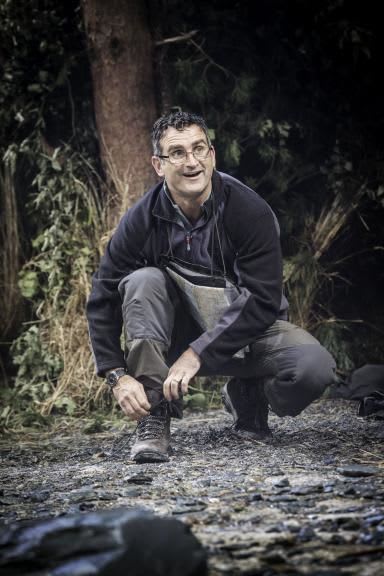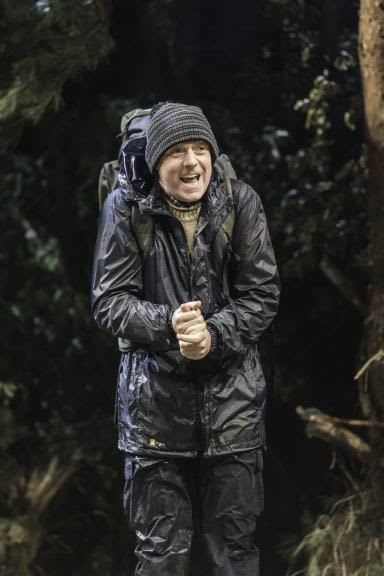 It seemed that the Theatre in the Park had been designed specifically with Barnum in mind, so much did it resemble a (rather luxurious) big top, and, I wondered, whatever they could find to fill the space and follow that marvellous show?
Well I wonder no longer because they filled it with a whole island surrounded by a lake. Not only are there full-sized trees but they have even managed to bring weather into the picture. There were gasps of amazement as the audience entered to the scene of a forbiddingly desolate island, where fog is closing in and pebbles are glistening wetly as the unrelenting rain falls.
Robert Innes Hopkins's set was in danger of upstaging the production, but, with such excellent performances and Tim Firth's script, it all blends into one very satisfying, and very very funny, whole.
The four characters involved are middle-managers sent to the Lake District on a 'bonding' mission entitled "Coping with Crisis", and it becomes more and more of a crisis as the story unfolds, something their leader, Neville, refuses to admit. By a combination of following clues (incorrectly due to Neville believing they are 'cryptic'), and an inept lookout, they have managed to sink their boat with the island their only refuge.
Emerging one by one from the water, soaked to the skin (and they really are), the first act is hilarious, beginning with visual comedy as they try to retain their modesty while stripping off completely, but soon the script takes over and the laughter continues as they argue about what to do next.
The individual personalities are evident from the start. Leader Neville (John Marquez) feels the weight of responsibility and believes it is his job to sort out the problem—once he has wrung the water out of his clothes. Gordon (Adrian Edmondson) is the sort of manager you would never want to encounter. Loud, bombastic and given to jokes which belittle others and undermine their confidence, he complains about everything and expects someone else to give answers and get him out of this situation. He is the one to have lost his rucksack with all the provisions.
Angus (Tim McMullan) swims up triumphantly holding his mobile 'phone above the water. "It's safe!" he cries, thinking he has saved the day. A shame that it's running out of battery and the call for help is never answered. Angus's wife has packed his rucksack with every conceivable item which might be needed in an emergency. Pity they don't look through it at the beginning.
Roy (Rufus Hound), a converted Christian, arrives full of optimism and sure that God will see them through. He has an episode in his past which must not be mentioned, something the insensitive Angus hasn't managed to take on board. Finally an angel of God provides food—in Roy's opinion and in a manner of speaking.
I can't imagine that these diverse characters would ever bond, but they find out a lot about each other, especially in the second act where the comedy becomes darker and their individual strengths and weaknesses are exposed.
Angus Jackson keeps the comedy alive, while not missing any of the pathos gradually revealed beneath the surface. Superb performances, great script, fantastic set and sound, light and music to match. The second, and last, of two great shows in this wonderfully atmospheric space.
Reviewer: Sheila Connor