Newsies: The Broadway Musical
Book by Harvey Fierstein, music by Alan Menken, lyrics by Jack Feldman
Disney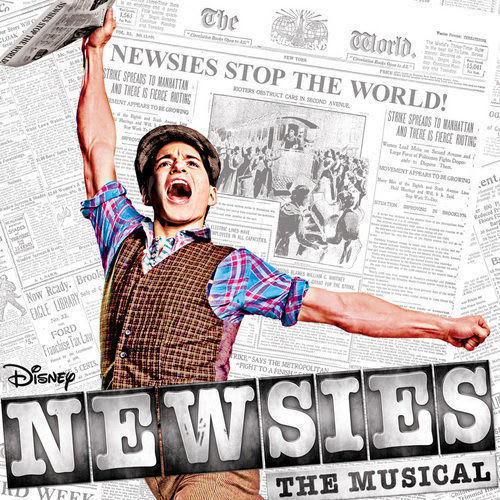 This filmed presentation of a hit Broadway musical from Disney, based on the corporation's own movie addresses events in 1899 when New York paperboys took on the biggest corporations in the United States.
As ever with filmed versions of stage productions, there are pluses and minuses in the different medium. At its best, this gives viewers the opportunity to see every move from the best angle and look right into the eyes of performers.
On the other hand, it is not a live physical performance, which is the main attraction of theatre. In addition, there are moments when we just get too close to the action, seeing excessive make up and acting, not to mention all of the wig joins and microphones. Perspective can also disappear, particularly in the big dance numbers.
However, this 2¼-hour film, recorded in front of an artificially enthusiastic live audience, is still an event that should not be missed by any musical or Disney fan on this side of the Atlantic when it appears in cinemas across the country for one day only on 19 February.
The story is typical Disney schmaltz, although Harvey Fierstein gives it at least a little backbone.
At the end of the 19th century, newspapers mattered in a way that has become history over the last two or three decades. The great magnates, Joseph Pulitzer and William Randolph Hearst, were legends in their own lifetimes, the former still ironically commemorated by the kind of awards go to shows like Newsies.
However, these were tough powerbrokers who not only worked themselves hard to get rich but would try to take every opportunity to make an extra buck.
In the case of Steve Blanchard's Pulitzer, when times got a little tough, the obvious solution was to increase the rates paid by the boys who sold his newspapers. Since they were living on the streets to start with, rather than simply leaving them homeless, such a move threatened imminent starvation.
Rather than eating even less, the boys led by Jack Kelly, played with a mixture of innocence and brutal honesty by Jeremy Jordan, rebelled by going on strike. The first attempt left them battered and bruised but, thanks to the support of Katherine, a tyro journalist with a secret played by Kara Lindsay, they came back stronger.
The ensuing Children's Crusade is heart-warming and leads to an almost inevitable conclusion, although some of the Disneyfied plotting can be hard to take, especially the union between a bunch of ragamuffins and the children of each of the major newspaper tycoons of the city.
However, people don't go to Disney musicals for veracity. What they want is something completely different.
By those standards, Newsies was always going to be a runaway hit. In the hands of director Jeff Calhoun, romance as ever tips over into excessive sentimentality but that is just what the audience demands of this drama.
In addition, Alan Mencken has written a series of catchy tunes that just keep coming back to haunt you, "The Prince of New York" and "Seize the Day" each being repeated regularly to guarantee that they remain in the brain and boost sales of the soundtrack. However, the main distinguishing factor that should fill cinemas on 19 February is Christopher Gatelli's astonishing choreography, which deservedly won him a Tony and perfectly tops off an enjoyable, if rarely over-demanding, night out.
Readers might wonder whether Disney has an ulterior motive in sending this movie around the world. No comment but it might be hard to get odds against a London stage production if the one-off screening here is a success.
Reviewer: Philip Fisher