Next to Normal
Music by Tom Kitt, book and lyrics by Brian Yorkey
Booth Theatre, New York
(2010)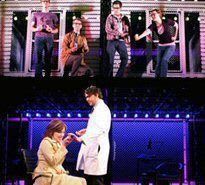 It is very rare to find a musical where the book and lyrics could stand on their own as a satisfying play. Next to Normal is an extraordinary work, built around the awesome psychological performance of Alice Ripley playing Diana, a woman still mourning the loss of an infant son, almost two decades on.
It comes as no surprise to learn that Miss Ripley was awarded the Tony for Best Leading Actress in a Musical, as she not only has to sing powerfully but must also deliver an emotional performance that is almost unique in this medium.
Diana is a loving mother but a deeply troubled lady and that reflects back on her family. Somehow, she is visited by Kyle Dean Massey as her son, now an impossibly handsome, strong-willed teen.
His presence eventually drives her over the edge into madness and, in a heart-breaking scene, her husband and 16-year-old daughter, played by J. Robert Spencer and Jennifer Damiano, debate the need for ECT - electric shock treatment.
The doctor's calming message about 80% success rates and limited side effects proves to be at best misleading. It is therefore only through an unexpected inner strength that Diana comes out at the other end alive and with the prospect of a future worth getting out of bed for.
Although it is not without humour, this is hardly the stuff of musicals and even more trends are bucked since Tom Kitt provides an award-winning score that ranges from edgy Sondheim-like songs to depict the fraught family to out and out Bon Jovi school rock for the raging battles both within and beyond Diana's head.
It has to be said that both music and lyrics have been written to advance the plot rather than leave visitors with songs chasing around in their heads but that makes sense on this occasion and does not detract from the moving experience.
This is enhanced by Mark Wendland's multi-storey set design which combines head and house using Roy Lichtenstein pointillism and the stage space most effectively, with non-existent Gabe often symbolically raging from on high.
This structure also allows director Michael Greif (an appropriately anagrammatical name) to create exciting rock concert imagery with the aid of his lighting expert, Kevin Adams.
It is amazing that a chamber musical with a cast of six and a central subject of a woman's struggle for sanity could have got from the much smaller Second Stage to Broadway but any show that can overcome so many seemingly insuperable difficulties must be really special and Next to Normal fits that billing perfectly.
Reviewer: Philip Fisher