In the Next Room, or the Vibrator Play
Sarah Ruhl
Lyceum Theatre, New York
(2010)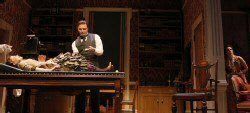 The subtitle says it all. This Lincoln Center Theater production in a borrowed Midtown theatre may be set in the 1880s but its subject and presentation are much more modern.
Sarah Ruhl has written a humorous play primarily about female sexuality, though inevitably men are involved, with Freudian undertones.
Annie Smart has created a lavish set divided between the living room of Dr and Mrs Givings and the next room, which is described as an operating theatre. The set also undergoes a breathtaking transformation at the play's chilly but moving dénouement.
Following the birth of their first child, the Givings are having as many problems as the good doctor's patients.
The visitors to the surgery are a rum, repressed but rich bunch. The first, Maria Dizzia's Mrs Daldry, is fading. In desperation, her dull as ditchwater husband resorts to the experimental medicine of Dr Givings, played by an equally tortured but committed Michael Cerveris.
His machine to free the juices and psyche of patients uses the new invention of electricity. When applied to the groin area, this works miracles and, if it doesn't quite hit the spot, then either his assistant Annie (the wonderfully named Wendy Rich Stetson) or the good doctor will provide "manual treatment".
The comedy comes from the delighted responses to the treatment from Mrs Daldry and then an artist, Leo Irving played by Chandler Williams.
However, In the Next Room is at its best when it addresses the more serious issues of marital problems and infant mortality, the latter seen through the eyes of the excellent Quincy Tyler Bernstine's Elizabeth, a servant whose colour allows the others to take advantage.
The main problem with the direction of this intriguing play, directed by American-based Brit Les Waters, is best personified by former Tony Award winner Laura Benanti. She plays the doctor's wife, a patronised, very frustrated woman who needs treatment as much as the patients but cannot get through to her husband.
Miss Benanti, and some other cast members have been asked to act using modern rather than period style with much eye-rolling and shrieking. This takes much of the seriousness out of a work that seemed to require a different balance and might have been just as amusing and effective played straight.
It would be good to see a Sarah Ruhl play in London at some point, and In the Next Room could appeal. However, a different approach might be required by audiences on the other side of the Atlantic.
Reviewer: Philip Fisher