Nice Fish
Mark Rylance and Louis Jenkins
American Repertory Theater
Harold Pinter Theatre
–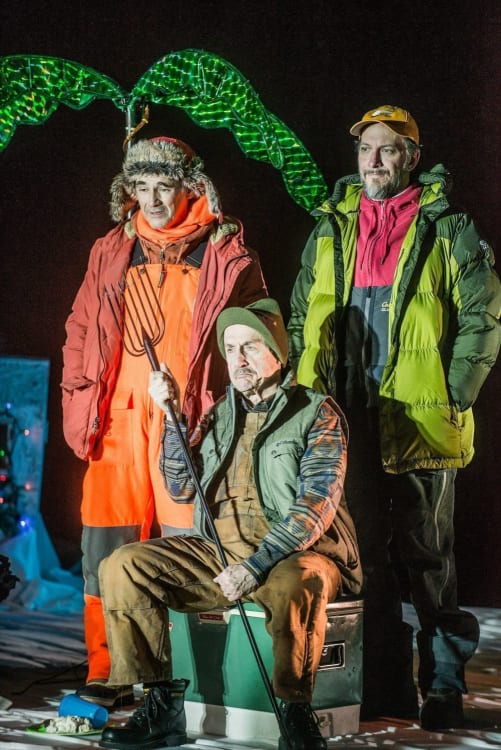 Mark Rylance has become a revered thespian thanks to diverse acting credits including unforgettable performances such as Hamlet and Olivia in Twelfth Night at Shakespeare's Globe and Johnny 'Rooster' Byron in Jerusalem. He also gained many plaudits as the founding Artistic Director at the Globe.
On this occasion, Rylance not only takes the leading role as slow-witted American fisherman Ron but has co-written the script to a piece that might seem more absurd than absurdist.
The genesis of Nice Fish apparently came in the form of the prose poems written by Louis Jenkins, a long-term resident of Minnesota.
Some of these poems, together with scenic enhancement, have been together under the direction of Rylance's wife, Claire van Kampen to form this production. To increase the family connection, Ms van Kampen has also composed the music.
That is the background to a 90-minute confection that is likely to divide opinion.
In its mystical existentialism, there has to be a possibility that the very discerning might identify the transatlantic transfer as a brand-new Waiting for Godot, the genius of which might not be discovered for another generation or two.
Alternatively, the less highbrow might regard the quiet inanities uttered by the characters as expressions of comic genius, although the laughter on press night seemed to be rather patchy.
At a basic level, the time is spent observing Rylance as Ron and Erik, a renegade mailman played by Jim Lichtscheidl, as they sit on an ice floe fishing with miniature fishing rods dipped into holes drilled through to the sea.
To the extent that the evening has charm, this is injected by some rather sweet puppets and miniature models, designed to put the actors into perspective.
As they fish, the pair innocently clown around and chatter rather tiresomely about very little. Examples of their subject matter include lost love, a Swedish family, a sandwich and the weather.
There are undoubtedly one or two very funny moments but they are fairly well spread through the evening.
The twittering is of the main characters brightened by the arrival of assorted visitors including an officious policeman (or unofficial American equivalent), an elderly neighbour with a trident and his rather perky granddaughter, respectively played by Bob Davis, Raye Birk and Kayli Carter.
If readers wish to get a better understanding of the purpose of this dull, mystifying play or glean any pleasure that it might offer to the receptive, they will need to head off to the Harold Pinter Theatre to discover the attractions of Nice Fish for themselves.
Reviewer: Philip Fisher