The Night of the Iguana
Tennessee Williams
Lyric, Shaftesbury Avenue
(2005)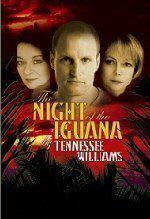 This tempestuous story of loneliness and lust features a whisky priest whose search for an anchor is reminiscent of the anti-hero of Graham Greene's The Power and the Glory.
Anthony Page's revival takes its audience to the stormy cauldron of a seedy Mexican beach hotel in 1940. The war in Europe is raging, much to the glee of a pair of caricatured Germans but the drifters who have washed up in this play face internal battles that are almost as damaging.
Anthony Ward's thatched wooden chalets backed by palms create an appropriately overheated setting. This is greatly enhanced by Mark Henderson's lighting and an atmospheric soundscape featuring with constant cicadas and a terrifying storm, created by Colin Pink.
Page has put together a big-name cast headed by the last of the year's American screen stars, the jaw-jutting Woody Harrelson of Natural Born Killers and Cheers fame. He plays Shannon, a lonely, deposed but not defrocked priest who is searching for peace but cannot resist the underage girls that he finds in its stead. He is a weak man but does his best to resist many demons, most significantly drink.
Harrelson is at his best as the drawling, bemused man who cannot understand his inability to fit into society. When Shannon rages, the actor does not always rise to the occasion, although there is a wonderful scene in which he is symbolically crucified for his sins, tied to a hammock and writhing like a netted whale.
The play counterpoints two women who are poles apart but offer different solutions to Shannon's perpetual problem of solitude. Clare Higgins, an actress who seems to delight in variety and always excels, plays the outrageous, newly-widowed Maxine. She is a hotelier whose current pleasure lies in her two dangerous Mexican "concubines", cruel gigolos whose beauty cannot hide their malevolence.
Her racy lifestyle contrasts with Jenny Seagrove's Hannah. This penniless woman supports her eccentric grandfather, a dying 97 year old poet, with cheap portraits and watercolours.
As the ancient man seeks a final poem that will bring closure, his granddaughter is left to consider life after he has gone. Miss Seagrove does well as this outwardly calm but inwardly tormented woman, although she does not discover all of her character's depths.
Light relief is provided by other cast member, with Nicola McAuliffe the comic pick as the haughty, terrifying Miss Fellowes, a woman whose overt righteousness leaves her shaking with indignation. When the need arises, though, she is still able to land a hefty right hook.
And the iguana? The lizard is a potent symbol amongst many, trapped for much of the play, its final release offers hope to all three of the lonely protagonists.
The Night of the Iguana is a late but still characteristic play that features some typical Tennessee Williams archetypes and themes. There are some great comic lines and despite a tendency to use his creations as representatives of types, the play is touching and delves deeply and meaningfully into its central themes.
Visit our sponsor 1st 4 London Theatre to book tickets for
The Night of the Iguana.
Reviewer: Philip Fisher