A Night in November
Marie Jones
Trafalgar Studios 1
(2007)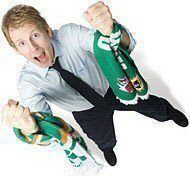 The producers have probably not planned it but, with sporting fever sweeping through England, this is not a bad time to revive Marie Jones' solo parable about the Irish problem. Indeed, with our plucky lads losing on every front, there are even greater parallels with the teams from the North and South of Ireland in their quest to win the 1994 World Cup.
A Night in November was first seen in London at The Tricycle in 2002 and seemingly owes its revival in the large Trafalgar Studios 1 to the presence of popular TV comedian and chat show host, Patrick Kielty. For two hours the amiable Irishman tells the story of Kenneth Norman McCallister, an ordinary, Irish Protestant dole clerk from Belfast.
With the assistance of Marie Jones' favourite director (and husband), Ian McElhinney who helped her to fame and fortune when they worked together on Stones in His Pockets, Kielty does far more than merely representing Kenneth. He also plays twenty or so other roles not only from both sides of the Northern Irish divide but also south of the border and eventually, New York.
These vary from your man's wife Deborah and father-in-law Ernie, both comic stereotypes but nonetheless extremely funny, to a downtrodden Catholic father of six who is almost reduced to begging for his benefit cheque, a whole swathe of drunken football fans and even the son of an old friend who became a political martyr.
After a brief sojourn in the dole office, we join Kenneth and Ernie as they travel to Windsor Park for the ultimate football challenge, Northern Ireland versus the Republic for a place in the USA's World Cup Finals. There, in the face of cruel bigotry, this typical East Belfast Catholic-hater enjoys a Damascene conversion that changes him into a balanced man who sees both sides of the argument and is even willing to speak out in company, much to the embarrassment of his wife.
Marie Jones then takes us one unlikely step further, as her working class hero decides to cash in his golf clubs for a trip to the World Cup in New York to support (hard as it is to believe) the Republic with all that the green, white and gold stand for.
There, he is soon accepted by the brotherhood of the drunken football fan and enjoys the kind of freedom that he has never experienced at home. Sadly, the play ends before his inevitable clash with Deborah, who probably believes (and might even wish) that he has been blown up by some renegade bomber.
The playwright manages to combine wit and football with some pretty deep social commentary on the divide in her home country. In 1993, the Downing Street Declaration with all that it offered was still hot news. Here, the politics are seen with a human face and the writer looks closely, if sometimes obliquely, at the acceptance that humiliation and violence receive on both sides of the community.
Patrick Kielty may not have been an obvious choice for this role despite his own upbringing in the community that his character describes. His acting looks very directed, especially since his movements are rarely natural. In addition, though some of his characterisations are spot on, the differentiation between them is not as impressive as that of Marty Maguire five years ago.
Where the stand-up really scores is in the raucous drunken comedy of the second half, for which his acting style seems entirely appropriate. He also has the advantage and experience of somebody who knows how to entertain everybody in a large theatre, which is a rare talent.
Kielty's performance is complemented not only by an experienced director but also David Craig's subtle set, which features three different levels and is backed by a kind of porthole that shows appropriate images including the Red Hand of Ulster, the Union flag and even a P45; together with impressive soundtrack and lighting from James Kennedy and Conleth White respectively.
Reviewer: Philip Fisher