Nina – A Story about Me and Nina Simone
Devised by Josette Bushell-Mingo and Dritëro Kasapi
Unity Theatre and Riksteatern
Young Vic Maria Studio
–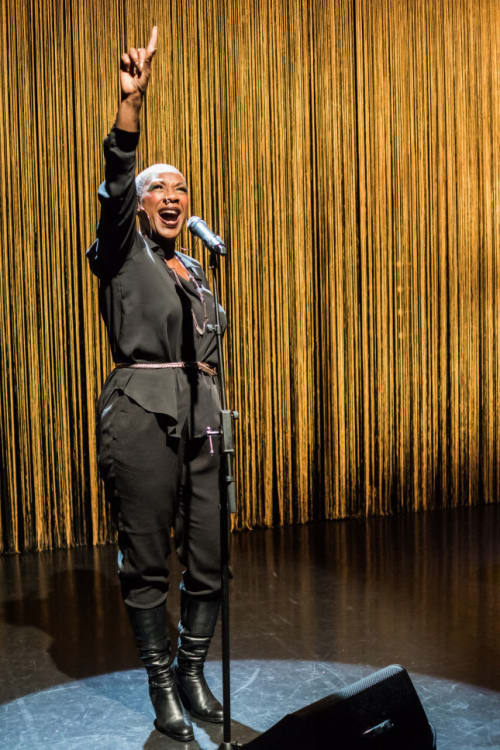 Nina is almost a solo show, co-creator and performer Josette Bushell-Mingo being accompanied on stage by a jazzy musical trio comprising piano, drums and a sawn-off electric bass.
The 80-minute duration is broadly divided into two distinct parts under the direction of Dritëro Kasapi. Initially, the actress delivers autobiographical stories accompanied by some thoughts about singer and activist Nina Simone and demonstrating the distant but psychologically important relationship between the two, although the biographical elements lack depth.
This leads into angry, agitprop musings about racism, streams of frequently state-inspired black deaths around the globe and the need to take further steps which might ensure equality or even just safety at some point in the future.
Having introduced a couple of songs during this section, the second half features a mini concert containing an impassioned rendition of Nina Simone's greatest hits, especially those supporting her strong political agenda.
These are delivered with verve and enthusiasm, which will greatly please any audience, particular highlights including "Revolution" and "Mississippi Goddam".
This short, confrontational evening can seem very personal and presents important political opinions in a powerful fashion, although the audience engagement may also make some uncomfortable for both the right and wrong reasons.
After completing this run at the Young Vic, Nina travels north to take its place in the Edinburgh Festival Fringe at the Traverse from 5 to 13 August.
Reviewer: Philip Fisher