Nina Conti: In Your Face
Nina Conti
Pleasance Courtyard
–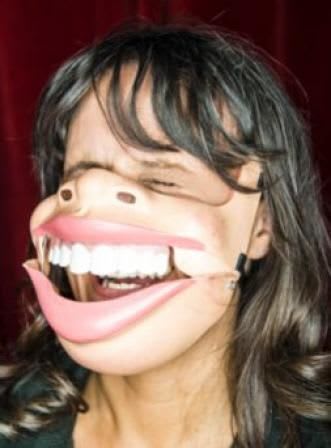 Nina Conti is now a firm Edinburgh favourite and has graduated to the large Pleasance One stage.
Anyone interested enough to read this review should know that she is one of that rare breed: a female ventriloquist.
Her In Your Face show for 2015 will, almost of necessity, be uneven. That is because so much of it is improvised, using (in every sense) random audience members.
This means that unless you enjoy being ridiculed by a skilled comedian in front of a large audience, do not sit in the front row or make jocular comments at the wrong moment.
Inevitably, the hour opens with the foul-mouthed Monkey warming up and insulting the audience. As ever, he and his sidekick are very funny.
The show then moves into unknown territory using a series of innocent jaws set out on what looks like a coat rail. However, not since the movie of that name have sets of teeth been quite so menacing.
Nina interviews audience members and invites some of them on to the stage. They are then kitted out with their new jaws and become her stooges, able to do little more to defend their honour than moving hands around.
When Nina Conti taps into the humour of the situation well putting her take on their thoughts into (not) their mouths, this can be laugh out loud funny. It is also a fact of life that sometimes it doesn't work quite so well.
Most fans will forgive the duller sections for the side-splitting laughter that they will enjoy for the majority of the time.
Reviewer: Philip Fisher