Nina Conti is Monkey
Nina Conti
Underbelly, Bristo Square
–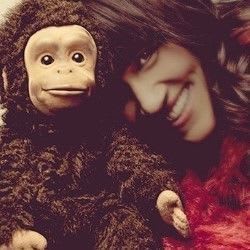 Nina Conti has found a successful formula and continues to plumb it, much that the delight of her ever-expanding fan club.
2018's minor divergence from tradition is an opening quarter hour during which an oversize monkey takes the stage alone, stuffed with Nina and her gags.
The bulk of the hour is taken up with the now famous shtick of turning audience members into puppets. They don masks and talk about their lives, without uttering a word since their thoughts are thought and expressed by the ventriloquising Miss Conti.
Using a familiar range of voices and accents, she literally puts words into the mouths of those brave enough to appear on stage, much to the hilarity of their loved ones and also the wider public.
There's nothing particularly new about any of this but, when the performer and her press-ganged support gel, it can be extremely funny.
Her old favourite, Monkey, also makes a brief appearance for the last few minutes, which will please his own wide group of fanatical followers.
Reviewer: Philip Fisher