Nina and Shaz
Laura McCluskey
Language Laid Bare
Brockley Jack Theatre
(2009)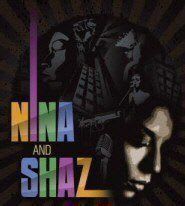 In Nina and Shaz the life-story of Nina Simone is played out jointly with that of fictional contemporary counterpart Shazne.
As a strategy it is more than moderately successful in contrasting their lives: the puritanical and poverty-stricken background of Simone's youth is compared to the consumerist have-it-all society in which Shazne is raised, and it also serves to highlight the point that, whilst Simone had a prodigious "God-given" natural talent, Shaz is a product fabricated by a pushy single mum with the aid of Nike and D&G.
Shaz is our society's wannabe egotistical youth - we feel for the rail-roaded teenager as she inveighs against her mum - "Do you even know what I want?" - but the injustices in her life are trivial when put against those of Simone in racist pre-war North Carolina.
The downside, of course, of lives played out in alternating scenes is that the structure can get in the way and it does so here: on the procedural side there are just too many short scenes with fill-ins needed to allow the actors time to change costume, whilst on the story side each Simone event portends the equivalent Shaz event. The momentum drags and the predictability of it becomes irksome.
There is much more to Nina and Shaz than mere biographical fact and, whilst writer Laura McCluskey may have let the structure get the upper hand this time, there are some powerful messages here delivered through the parallels on offer - her 'intentions are good' and her writing talent is evident.
Georgia Lowe's set and Avril Cook's lighting design work well together to provide for the many scene changes and the judiciously chosen music and songs help set period, place and mood from the outset (Helen Skiera's sound design), but this skill would be for nothing without the technically proficient timing of lighting and sound operator, Roxy Phillip.
To say the cast are Young, Gifted and Black is probably too awful, but there, I've said it now.
Kyla Frye, who is still at drama school, ably plays Shaz from bubbly girl through to young lady with a feisty edge and Rebecca Crankshaw is excellent as her mother, a role she doubles up with Miss Mazzy, token white influence on the young Simone.
An outstanding performance is given by fellow drama school student Wreh-asha Walton as Simone. She captures Simone's haughtiness and determination and also delivers a song convincingly in character. Charlene James plays Milly and Richelle the loyal friend to each of Simone and Shaz with real tenderness, and Linda Mathis ably juggles all the other female parts.
Nathan Clough leads the way with Kevin Golding and young student Daniel Green in covering the male roles.
"Nina and Shaz" runs until Sunday 3rd May with performances Wednesdays to Saturdays at 7.45pm and 5pm on Sundays. There is no interval.
Reviewer: Sandra Giorgetti