No Kids
Nir Paldi and George Mann
Ad Infinitum
Battersea Arts Centre
–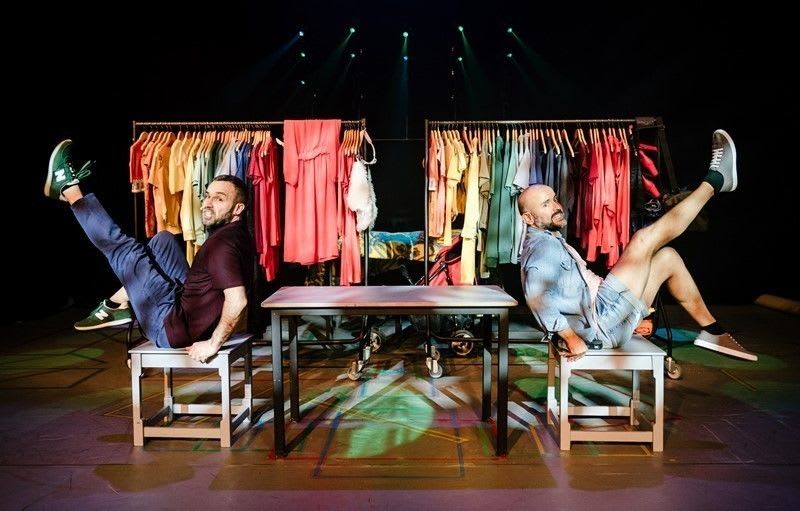 Under the Adoption and Children Act, individuals and unmarried couples, including same-sex couples, can apply for adoption. This is something that millennials can take completely for granted.
But what if you're a gay man born the generation before that, when surrogacy was, dare I say it, in its infancy, and you grew up thinking that you could never have children? Maybe throw in some Catholic upbringing.
Having children isn't for everybody, and the 'just because you can, doesn't mean you should' dilemma is what concerns real-life couple and Ad Infinitum co-artistic directors Nir Paldi and George Mann.
They have turned working through the pros, cons, how, when and if of parenthood into the subject of their current production, No Kids.
With warmth and humanity, the show records the often distressing process they have been through to come to a decision and seeing brief insights into how they created the show itself throws up a few interesting parallels.
Rather like the application process for adopting, the narrative sees them go through some emotional agonising and probing examination of their own childhoods.
Using music, song and narration, Paldi and Mann cover many of the bases of what is a limitless subject. Parents will recognise the What If flights of fancy where imagination knows no bounds and children are visualised as high achievers, saints, drug addicts or psychopaths. And, in any event, it's all the parents' fault.
It says something about society's need to catch up that a couple doesn't constitute a family, implying that being part of a couple is missing something, that it isn't of itself, enough.
What stands out in Paldi and Mann's honest examination of their choices is that deciding to have children is as big a decision as deciding not to.
It makes for a show that is both thought provoking and moving and should be compulsory watching for anyone who is thinking about having children. If there is a decision about which there can never be enough thinking, this has to be it.
The show continues to tour after its run at Battersea Arts Centre London, visiting Tobacco Factory Theatres Bristol, Bedales School Petersfield, Arts at Stowe Stowe School Buckingham and Corn Exchange Newbury.
Reviewer: Sandra Giorgetti