No Man's Land
Harold Pinter
Wyndham's Theatre
–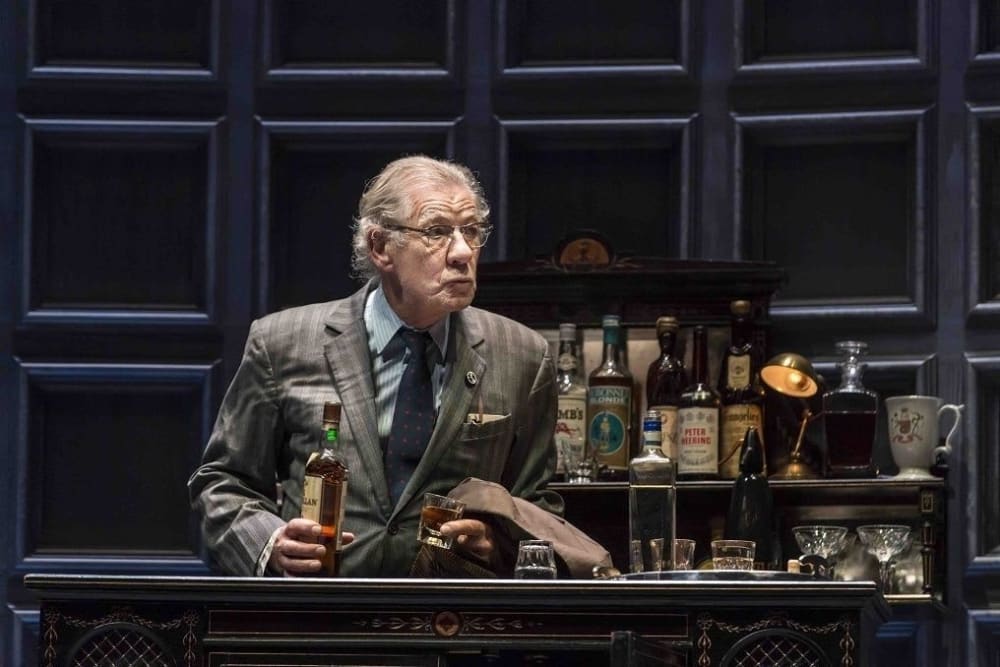 Following their Transatlantic success with Waiting for Godot, director Sean Mathias has reunited Sir Ian McKellen and Sir Patrick Stewart to play Spooner and Hirst in a production of No Man's Land first seen alongside the Beckett during a Broadway run three years ago, when Billy Crudup and Shuler Hensley took the secondary roles.
Given that history, it is almost inevitable that viewers will begin to see comparisons between the two plays and there are many. The most obvious is the way in which what often sounds like a stream of inanities can begin to invoke deep meaning.
In addition, there are mysterious monologues, instant shifts of power, subsidiary characters with violent tendencies and that magical formula of saying nothing then repeating it, strangely subverted.
Set in a plush, Stephen Brimson Lewis-designed, symbolically circular living room overlooking Hampstead Heath, Harold Pinter's play from 1975 starts with the interaction between two men who simultaneously seem to be strangers and old acquaintances as they discuss amongst other things sexual infidelity, cricket and strange goings-on in the environs of the Heath.
Sir Patrick, beginning to look like the reincarnation of Sir John Gielgud, who created the role of Spooner for (the future Sir) Peter Hall opposite Sir Ralph Richardson, is silent patrician Hirst, a frail old man whose silences in the early scenes are eloquent.
Opposite him, Sir Ian plays an intermittently confident, well-spoken poet with the costume (suit and plimsolls) of an eccentric or possibly a tramp but a desire to impress.
The meeting is probably intended to hint at the loss of British imperial aspirations as well as the way that old men remember—and forget.
The liquor flows abundantly until, as Spooner begins to make himself at home, the Pintersquely menacing duo of gravel-voiced, violently tattooed Briggs played by Owen Teale and Damien Molony's jauntier Foster collectively inject an atmosphere of fear.
After an interval that takes events through the ensuing night, the morning brings a change in tone, atmosphere and behavioural characteristics, together with even greater comic absurdity.
Hirst has become patronising and loquacious, while the two minders attain at least a degree of charm. Contrastingly, Spooner begins to act rather more like his dowdy costume, closer to begging than demanding, as he seeks a place in the already eccentrically mismatched household.
As Sean Mathias must have hoped when he pitched this project to producers, the two stars give a masterly demonstration of acting, having as much fun with stage business and minor facial tics and changes as they do with Pinter's sometimes impenetrable but mystically meaningful text.
There can be little doubt that this limited run will bring the crowds flocking to Wyndham's and, for those that cannot make it, there is an NT Live broadcast scheduled for 15 December.
Reviewer: Philip Fisher