No Rhyme
Melanie Pennant
Jack Studio Theatre Write Now 4
Jack Studio Theatre
–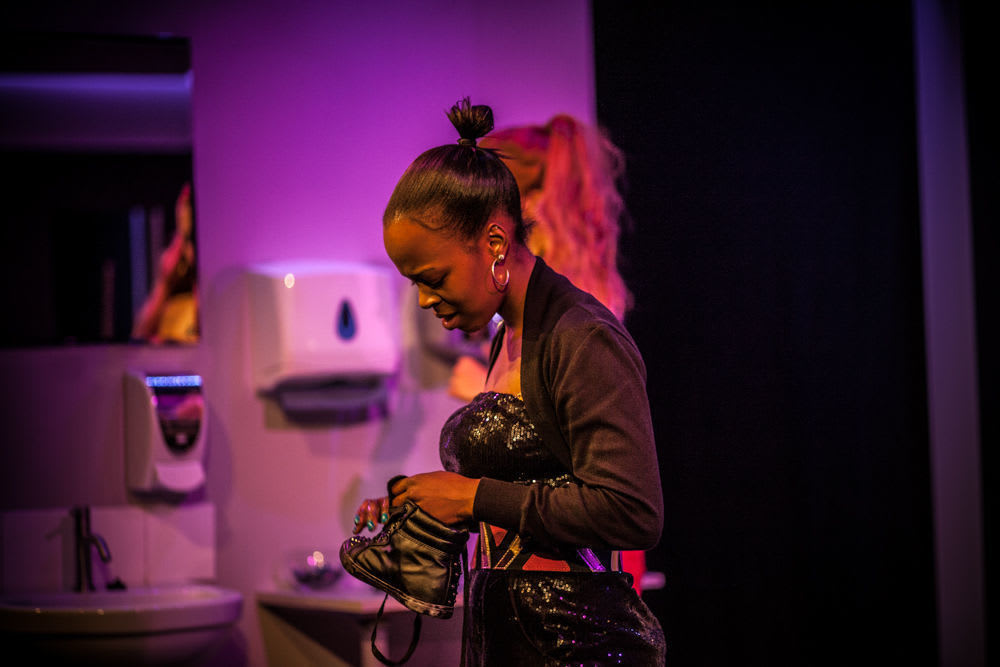 No Rhyme, which opened on Tuesday, was selected to receive a full production from amongst the many scripts submitted to the Jack Studio Theatre for its new writing festival, Write Now, enjoying its fourth year.
"Runners up" Bump and The Magic Hour played alternate evenings last week, and there has also been an evening of short plays themed on legacy, workshops and talks.
Why No Rhyme got ahead of the others is clear. It is a more powerful if less thought–provoking piece of writing and an admirable debut play from Lewisham resident and screenwriting student Melanie Pennant.
Set in a night club toilet (an excellent set from David Shields), it takes an unflinching look at the ugly power tussles between two club employees and between two teenage clubbers.
The ladies' loo may be Lizzie's territory, her refuge, but it is populated by people who have no respect for it or her and offers her no real protection from harsh realities.
Illegal worker, toilet attendant Lizzie, is blackmailed by EU migrant worker Katya into stealing for her. The promises made to her of a new life in England have failed to materialise and she needs to find more money from somewhere and is matter of fact in her approach.
The relationship between clubbers Nush and Pep is even more ill–faced. Nush is feral. She has come to the club carrying a knife with every intention that it be used—but by Pep—on her behalf. Nush has a criminal record for a vicious happy slapping incident a year earlier, the recording of which is still on her phone, and uses her need to keep out of jail and their "tighter than family" friendship to coerce Pep into assaulting a girl she thinks is sleeping with her boyfriend.
In a third storyline, a Young Girl silently leaves one of the cubicles. When Lizzie goes in to clean it is blood–spattered and she finds the abandoned body of a dead baby.
Penant's writing captures the over–loud, tiresome posturing and idiom of teenagers and magnifies it with alcohol in Nush and Pep so the voicelessness of the Young Girl stands in greater contrast.
What Pennant presents is an unrelentingly sordid picture of teenage life that is tragically true and at its extremes in Lewisham, not only having the second highest rates of teenage pregnancy in London but also recently identified as the most unsafe place in the country.
In No Rhyme the narrative often runs at a frenetic pace and is stripped back so it is not always completely clear—Lizzie leaves her toilet hideout at the end but what it is that motivates her is not explicit, as is what first drove her into its sanctuary. The resolution between Nush and Peps is left or lost in the ensuing drama of the Young Girl's collapse.
Why this matters is a moot point, but why it makes a difference is because none of the characters is likeable with the exception, eventually, of Lizzie who starts off alienatingly weird as she dances around the empty toilet. This is a tough watch and Pennant needs to throw us a crumb.
Reviewer: Sandra Giorgetti