A Woman of No Importance
Oscar Wilde
Salisbury Playhouse
(2006)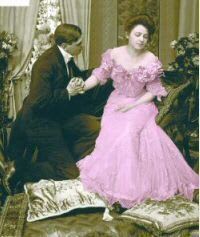 Style with elegance returned to the stage of Salisbury Playhouse this week in an excellent production of Oscar Wilde's biting tilt at Victorian morals, A Woman of No Importance.
After the disappointing experiment with Howard Goodall's musical Two Cities and a modest staging of Gerald Moon's black comedy Corpse, the new season rejoices in the return of director Lucy Pitman-Wallace, fondly remembered in Salisbury for last season's successful revival of Noël Coward's Relative Values.
A Woman of No Importance emerges from the brief but fertile flood tide of Wilde's genius in the wake of his failure with Salome and, notably, following his US tour as herald for the D'Oyly Carte production of Patience. Hence, no doubt, the introduction of the American Hester Worsley, excellently played by Alisa Arnah, and her scorn for the English society Wilde so adored.
It is, of course, one of Wilde's three original pays of modern life – quite unlike his final, trivial comedy for serious people, The Importance of Being Earnest. It is also his darkest play – excepting the melodramatic story of Dorian Gray.
Here, a splendidly garrulous Lady Hunstanton (Sandra Dickinson) assembles the talkative guests in her web at Hunstanton Chase. The splendour of her terrace, not to mention the drawing room and, no doubt also, the unseen yellow room, are thanks to designer Jessica Curtis who creates also a nicely cramped pied à terre for Mrs Arbuthnot in Act 4.
Rachel Arbuthnot is a strong performance by Victoria Wicks which well nigh steals the show in competition with colourful sketches from Clare Swinburne, a naive Mrs Allonby, and Joan Moon, a formidable Lady Pontefract, with Clare McCarron as Lady Stutfield.
The gentleman are no less distinguished, comprising a harassed Pontefract (Maxwell Hunteon, a brief but memorable Northern MP (Tony Boncza) and the attractive son of much importance, Gerald (Gregory Fox-Murphy). In a company remarkably well-dressed in the absence of costume credits, only young Arbuthnot appears rather too smart for his bank-clerk status – but then he is surely already under the wing and influence of the elegant, eloquent Lord Illingworth.
This performance is a tour de force by Trevor Sellers, a subtly greying matinee-idol if ever there was one and which would certainly have delighted the master had he espied him!
Paul Dodgson's original music seems at first out of touch yet long before the final curtain it has become inseparable from the exquisite pain of the drama.
The production continues until Saturday 25th November.
Reviewer: Kevin Catchpole