Noises Off
Michael Frayn
Theatre Royal Bath Productions
Richmond Theatre
–

Listing details and ticket info...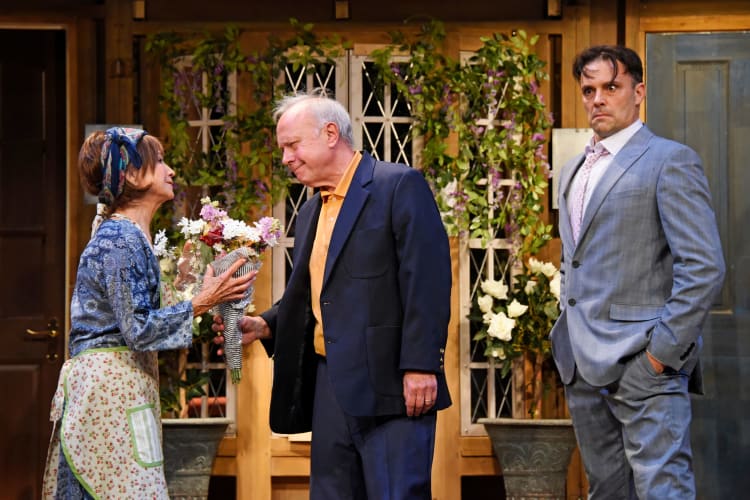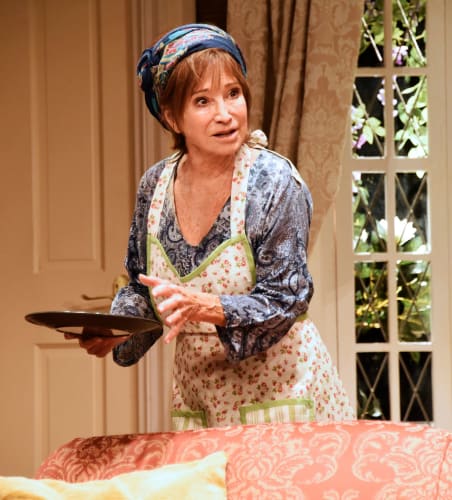 Michael Frayn's love letter to the camaraderie and chaos of the theatre charms in this revival of a much loved farce. Lindsay Posner returns to the helm having directed the Old Vic production of 2011.
We are plunged into a desperate rehearsal for Nothing On, Frayn's parody of creaky sex comedies, complete with bedroom doors banging and daft double-entendres. The second act moves the action backstage, where personal rivalries threaten to derail the production. By the third, we witness a catastrophic performance of the play late in its tour of provincial theatres. The resulting controlled anarchy is a triumph of comic timing and choreography.
This is all about the performances and ensemble interaction. Felicity Kendal is in fine form as the doddering Dotty, always forgetting her lines and what she is supposed to do with the props, most notably a plate of sardines. Jonathan Coy reprises his role as the squeamish Frederick Fellowes, whose character is a henpecked tax exile who "isn't in Spain."
Joseph Millson, as Garry Lejeune, is wonderfully melodramatic, all panting and posturing and arms and legs askew. His double act with Brooke (an endearingly naïve Sasha Frost) drives much of the action. Matthew Kelly brings subtlety and even a hint of menace to the senile Selsdon Mowbray, implying that his forgetfulness might at times be deliberate.
Tracy-Ann Oberman as the apparently omniscient Belinda is the most gloriously luvvy of them all, holding back the tide of confusion with her bare hands. Hubert Burton's hapless stagehand Tim is well cast. Pepter Lunkuse's Poppy is amusingly despairing. And barking sardonic instructions from the wings is Alexander Hanson's director Lloyd Dallas.
The actors' relationships are thinly drawn in the script and it doesn't matter if we do not really believe that Lloyd is having affairs with Poppy and Brooke, or that Garry is involved with the much older Dotty. Indeed, the "real life" farce mirrors the tone of Nothing On. But there are moments where Hanson's performance could have been a little sleazier and less shouty. And others where the actors' despair could have been dialled up a couple of notches—as this is not just silliness.
In the third act, when the wheels are truly coming off, the actors plead with the director for guidance, practical and spiritual. The conclusion is that everything comes down to boxes and doors and bags and sardines—that is theatre. As is often the case with the characters in Samuel Beckett, the aim—the only aim— is to get to the end. And what fun it is to see them try.
Reviewer: Tim Fox