Noises Off
Michael Frayn
Old Vic
(2011)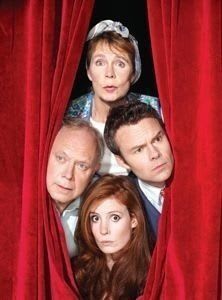 Not so long ago, musicals were the talk of the town. Now, with this unbeatable revival of Michael Frayn's perfect specimen of the genre, farce is threatening an unexpected take-over.
With One Man, Two Guvnors the hottest ticket around and the new farcical version of The Ladykillers getting rave reviews in the national press, the capital has three palpable hits that will have audiences in stitches—just the thing to inject seasonal cheer and take one's mind off a depressed economy.
There is always a danger in bringing back a much-loved favourite but Noises Off, first seen in 1982, is so well conceived that it fully deserves another outing and director Lindsay Posner makes the most of the opportunity.
The first act sees a touring weekly rep company at the dress rehearsal of a Brian Rix-style, super-clichéd farce entitled Nothing On.
Lack of talent would normally be director Lloyd's biggest problem but not on this occasion. His affairs with the company's two young females are collectively a disaster in waiting, to say nothing of another backstage romance, a marital split, an actress with memory problems, a drunken veteran and an overworked stage manager.
This all creates a stream of effective laughs but soon pales into insignificance in Act 2 after the interval.
Now the audience witnesses a production one month on but from backstage. While the actions the other side of the scenery are familiar, the love tiffs and other backstage business are truly hilarious, topped off by an actor forced to hop around with his shoelaces tied together.
The last act allows us to witness the tour's final performance and is a gem, as Frayn cruelly deconstructs his own creation.
The evening presents 2½ hours of almost unmitigated laughter as we enjoy lots of theatrical in-jokes and get a feeling that while everything is way over the top, it is all almost certainly based on life and could easily happen.
Posner is blessed with a dream cast, every one of whom plays his or her part in a great team. They build an intricate world that collapses through their all too human foibles.
Philip Glenister is a tired, talentless director more interested in his affairs with ingénues, played by Amy Nuttall and Aisling Loftus, than his play. Celia Imrie is a delight as the producer and housekeeper who cannot learn her part.
Janie Dee plays the calm spirit holding things somewhere near together with assistance from hapless stage manager Tim, Paul Ready, while Jamie Glover is an angry, sexually jealous leading man and Jonathan Coy an insecure, older actor.
Last and by no means least, as he is a true scene-stealer, comes Karl Johnson whose perfect timing as Selsdon, the veteran toper with an acting style a generation away from any of his colleagues.
For anyone concerned to put off a loved one who fancies a career as a theatre director, Noises Off should be a dream answer. On seeing it, they will instantly realise what hell the profession promises.
The rest of us can just enjoy a gloriously funny evening that threatens the supremacy of One Man, Two Guvnors and praise does not come any higher than that.
Reviewer: Philip Fisher