Noises Off
Michael Frayn
The Old Vic
The Lowry, Salford
–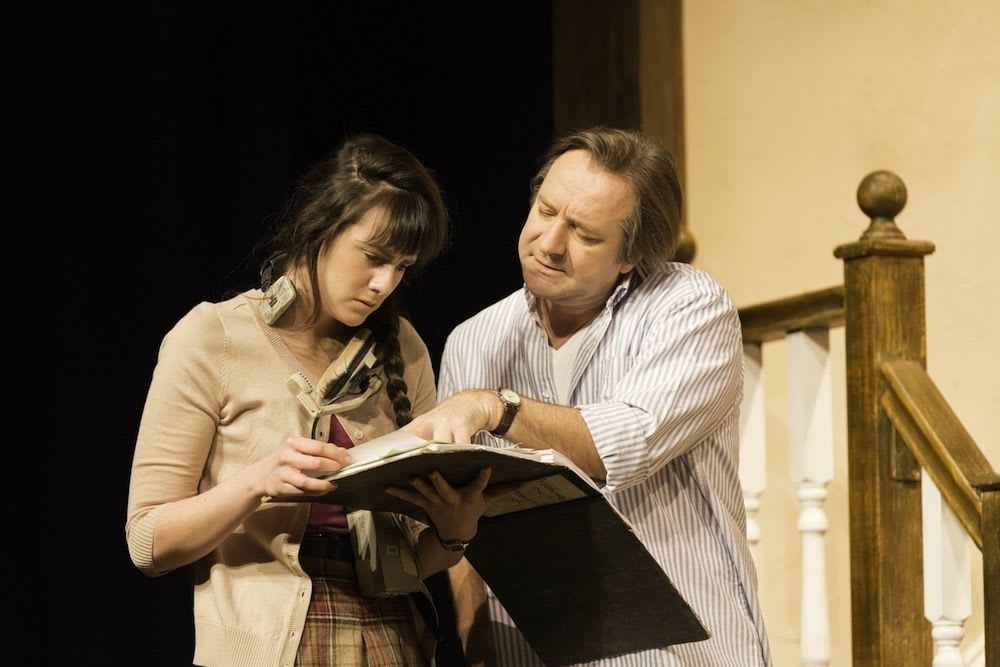 Michael Frayn's perfectly-honed farce-within-a-farce had two notable revivals in 2011 at opposite ends of the country: one from the summer season ensemble at Theatre by the Lake in Keswick in the Lake District directed by Stefan Escreet, and Lindsay Posner's all-star production for the Old Vic in London. The latter is now touring with a slightly less-starry cast.
Frayn sets his play in a touring theatre company which is putting on an old-fashioned bedroom farce called Nothing On. We see the same scene from this play three times: the first during the dress rehearsal before opening night, which is stretching to the early hours of the morning; the second from backstage where we see the actors' personal lives breaking down while the play happens behind them; then finally on stage on the last leg of the tour as the whole thing falls apart, while some of the actors desperately try to ad-lib the things that go wrong into the plot.
It's superbly constructed and demands very precise direction and performances to put across the chaos clearly to the audience, particularly in act two which is mostly played without any words as they are backstage during a performance. Real chaos quickly gets boring to watch as it's difficult to find any interesting stories to follow.
Posner's production is extremely funny at times, but there are also some big lapses in pace, particularly in act two but also as things really fall to pieces in the final scene. As the pace drops, the clarity of plotting falls away and the audience's attention drifts, something that you can't allow to happen in a farce.
This may sound picky about details, but it really makes all the difference. For the Theatre by the Lake production, we both came out feeling exhausted from both laughter and trauma as we were never given a moment to rest or reflect until the end, which is as exhilarating as a roller coaster ride. I wasn't left with this feeling from this production, but it is certainly great fun with some very good moments.
Neil Pearson is a perfect choice for the director, always just on the point of losing his patience with his demanding but fragile actors and stage crew. The rest of the nine-strong cast play their parts adequately but no one stands out especially.
Peter McKintosh's set achieves the difficult job of turning around between acts so that we are backstage for act two and back again for act three fairly quickly and painlessly. Michael Bruce has created a theme tune for the play that sounds almost like that to Fawlty Towers, but not quite.
While not perfect, anyone seeing this production on tour will no doubt have plenty of laughs and a lot of fun, as did I. However it also reminded me that I need to arrange my trip to Keswick for the summer season—and I think a few of the London-based critics who were so taken with this production should do the same.
Reviewer: David Chadderton